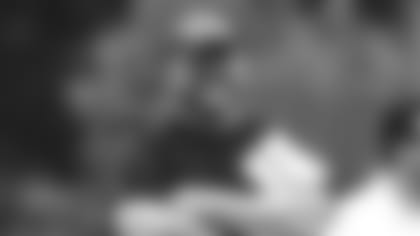 The "meaningful games in December" question is a prickly thicket for most owners, general managers, coaches and players in the NFL. Why invite trouble and second-guessing down the road should unforeseen circumstances and an injury tsunami hit your team in September, October or November?
But Jets GM Joe Douglas didn't have cold feet when Jets reporters asked him that hot-potato question Tuesday morning at the annual league meeting in Palm Beach, FL.
"Absolutely. We need to be playing meaningful games in December," Douglas said.
He had several reasons for the boldness of that statement. One was how the Jets have fared so far in the NFL's free agency period and how they hope to capitalize on their draft position in Las Vegas in a month.
"I think we're still young," Douglas said of his roster, which was among the league's youngest at the start of last season, "having two years' worth of draft guys on the roster and getting ready to add, right now, nine more young guys. But being able to bring in some quality veteran free agents that are still young, still in their prime and have played in championship moments to really add to these young players and help this entire locker room grow and develop.
"Just going through what we did last year, playing all the young guys, knowing there was going to be some bumps along the road, but hoping that the payoff starts now with this year moving forward."
The Jets added that youthful experience around the roster — at tight end with the signings of C.J. Uzomah and Tyler Conklin, on the O-line with the arrival of Laken Tomlinson, and in the secondary with D.J. Reed and Jordan Whitehead.
And at one more position, one that often gets overlooked at this time of year but one that could also have a big hand in Douglas' December plans: placekicker.
"I think with where we were with the couple of moves we made recently, we expect to be playing in a lot more close games," he said. "That's why, if we're going to be playing in close games, it's important to have a good kicker. And so signing [Greg] Zuerlein and bringing Eddie [Piñeiro] back, there's going to be a nice competition there and hopefully they can be a big factor for us in some of these tighter games that we play next year."
Yet another reason for Douglas' optimism came up when he was asked about the health of tackle Mekhi Becton, who rehabbed his opening-day knee injury the rest of the entire year, and WR Denzel Mims, who struggled through illness and light production in the offseason and into the regular season.
"I'm excited, and not just Mekhi and Denzel but Jabari [Zuniga], Ashtyn [Davis], Bryce [Huff] and all the guys coming back from the 2020 and 2021 drafts, getting them back on the field with the new players we've added," he said. "A big focus for us — and I don't think this is breaking news — is that great teams, teams that are in the playoffs keep their good players healthy. So a huge focus for us will be keeping those guys healthy and keeping them on the field for those meaningful December games."
Some might say Douglas is feeling the pressure. Others might say he's feeling the cool vibe of working with owners Woody and Christopher Johnson, team president Hymie Elhai, head coach Robert Saleh and everyone else in the football wing of the Atlantic Health Training Center in spending cap dollars and draft capital to get the 2022 Jets program off and flying.
"There's pressure every offseason, But especially this year, having four picks in the top 38, if we do this the right way, it could be really special," Douglas said. "Where we've set ourselves up with free agency and the opportunity here with these top four picks, it's a huge opportunity for us."