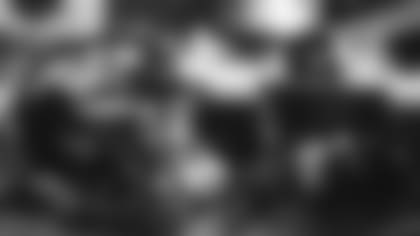 It's been an unusual time for the NFL as teams navigate around the obstacles presented by the coronavirus pandemic. And more upheaval and uncertainty are still ahead in the short term as the clubs execute their normal processes at this time of year — conducting business during the free agency signing period, preparing for the draft, plan for altered schedules for the starts of offseason programs, minicamps and training camps.
But everyone has adapted to the new normal to move forward into the 2020 season. And general manager Joe Douglas has a name for the Jets' flexibility this offseason.
"We've all had to 'A&I,' right? Adjust and improvise," Douglas told reporters on a recent conference call. "I think everyone's done a great job. We've been able to overcommunicate, we've been able to stay on the same page. ... Nothing really has changed as far as the mechanics of our meetings. It's just going to be remotely."
The Jets have been adjusting and improvising for a while now. In Douglas' description, the "rock stars" of the process have come from the team's IT and video/football departments — vice president of information technology Tom Murphy senior director of network services Steve Piazza, senior director of applications development Paul Marsh and their staff, and video director Ryan O'Heir and his staff.
"It's been a big-time team effort," Murphy said. "It wasn't just one particular person. Steve was responsible for the 'Teams' piece of it, but almost everyone is basically working on something to do. And with the new draft rule and getting everybody set up and with the new normal of the draft being in individuals' homes, there's still a lot to be done."
The challenges began in mid-to-late February when the IT department began to educate the front office, scouting and coaching staffs on how to get remote access that they didn't need before — a hurdle since everyone has a different connectivity situation at home — and prepared for the added stress to the Jets' internal Internet circuits with all the new faces and voices coming online.
These plans are especially crucial since the league announced recently it would be going to a "Virtual Draft" later this month, meaning all Jets personnel must be draft-ready in the weeks ahead.
"This is completely different than what we've been doing so far," Murphy said, "and a much bigger challenge."
Besides the internal meetings, the IT and video teams had to coordinate for one of the staples at this time of year in interviewing free agents and draft candidates remotely. The Jets accomplished all these interviews through, appropriately, Microsoft Teams, a unified communication and collaboration platform launched three years ago.
During the busiest interviewing times, multiple video calls are made each day. On each call with a prospect is some combination of personnel staff — Douglas, assistant GM Rex Hogan, vice president of player personnel Chad Alexander, senior football adviser Phil Savage, and scouts — and coaching staff — head coach Adam Gase plus a coordinator and position coaches.
Each team's draft board looms large at this time of year, and the Jets' "big board" is also viewable remotely, thanks to the proprietary software program assembled previously by lead application developer Matt Capogrosso and then tweaked since Douglas' arrival last June to accommodate the new GM's grading system and other requests.
Eventually, players new and old under contract will receive iPads that contain video and playbooks. This happens every year, but the coronavirus planning will surely provide some curveballs that everyone involved will "track and whack" as the pitches are thrown at them.
The process got more complicated this year. But in Douglas' analysis, "I think where we are technology-wise, we're ahead of the curve."