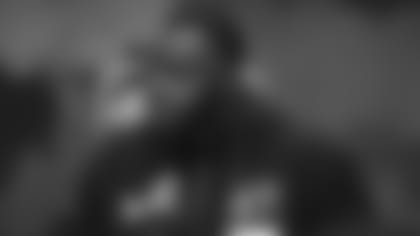 In his first true offseason as Jets general manager, Joe Douglas wants to construct a solid wall in front of Sam Darnold. With hopes that the 22-year-old signal-caller will continue to blossom in Year 3, Douglas has emphasized the importance of the line of scrimmage.
"Look, you guys know how I feel about the offensive line," Douglas said this week at the NFL Scouting Combine. "It's hard to have a good team without one. Obviously, we need to have a strong offensive line. We have to do a good job of taking care of Sam moving forward."
Significant changes are on the horizon for a group that has six of its 11 starters from last season facing expiring contracts on March 18.
"We're all looking for continuity, so five new starters would be a less than ideal situation," Douglas said Tuesday. "That being said, you have to do what's best for the team. So if it comes to that, it comes to that."
The Jets have the potential to address the line through free agency, trades and the draft. And the draft, highlighted by a quartet of tackles, could prove to be inviting early for Douglas as he currently owns the No. 11 overall selection and four picks in the top 77.
"It's a good group," Douglas said. "I think you're going to see a lot of guys who become starters in the NFL."
Let's empty out the tackle notebook from Indianapolis…
Thomas' Meeting with the Jets
After starting his collegiate career at right tackle, Andrew Thomas started his final 26 games at Georgia at left tackle. One of the Bulldogs four team captains, Thomas was a semifinalist for the 2019 Outland Trophy and earned Associated Press All-American and first-team all-conference honors. He met with the Jets this week, reviewing some highlights and lowlights.
"There were a couple plays we went over — some good, some bad. Basically they just ask you to explain the offense, so you look at a lot of six-man pass protection and just explain how we ran it, what our calls were, things like that. When I'm in the interview, it goes so fast. So I'm just trying my best to impress the coaches."
The 6'5", 315-pounder's versatility extends well beyond the football field. At Pace Academy, the big offensive lineman worked double duty.
"I played the drums in the band, but when I went to college I couldn't do that anymore so I transitioned to playing piano," he said. "At my high school, I'd be at the pep rally and I'd be playing in the band with my jersey on, and then I'd go over to the football team and do the football things."
When asked this week for a pro comparison, Thomas pointed to a pair of seven-time Pro Bowlers.
"I think I'm a mix of Tyron Smith and Trent Williams," he said. "Trent Williams because of his athleticism and Tyron Smith because of how consistent his set is no matter who he's playing."
Becton Loves New York Griminess
Mammoth Louisville tackle Mekhi Becton also met with the Jets, telling reporters he had a great session with Douglas. The Highland Springs, VA native is in the argument to be the first tackle taken in April and both New York teams will do their due diligence because the cross-town Giants hold the No. 4 overall selection.
"I just like how grimy you guys are," Becton said of New Yorkers. "I love the New York griminess."
The 6'7", 364-pound may have the highest ceiling of any lineman in his class and he's not short on confidence.
"I feel I'm the most dominant tackle in this draft. You wouldn't go wrong picking me," he said and later added, "The tape shows it. It shows that I finish almost every play. It's as simple as that."
Becton, who says he can get you a touchdown if you run behind him, might have teams asking him to get his weight down. But he has a good excuse considering his mom is a caterer and an excellent cook. His favorite meal?
"Mac and cheese, fried chicken, collard greens," Becton said. "That's a good plate right there. You have your starch and greens."
Wirfs the Wrestler
Long before he was named Rimington-Pace Offensive Lineman of the Year in the Big Ten Conference, Iowa T Tristan Wirfs was showcasing his athleticism at Mount Vernon HS. Lettering both in wrestling and track four times, Wirfs won a state wrestling championship his senior year and claimed state championships in discus and shot put his junior and senior years.
"Wrestling, it's a pretty big thing in Iowa. I think the two biggest things you can take away from wrestling in football are body control and awareness and hand movement," he said. "Being able to do that shows teams how competitive I am. It takes a lot to be a wrestler and people from Iowa will attest to that. And they're two individual sports, you versus another guy. I hate losing, so I'm not going to let another man beat me. I'm going to do whatever I can to stop it. You've got to do the same thing on the offensive line."
The 6'5", 320-pound Wirfs played mostly right tackle and he was open with the media about some teams wanting to see if had more of a nasty streak inside him.
"I've never really been a mean person. That's a testament to my mom and how she raised me," he said. "I think they want to see me get more pancakes and I think I did that a fair amount this season. Last year against Nebraska, I had 14 knockdowns. I can try to get a little meaner, we'll see."
Project No. 5
Most draft pundits have labeled Houston's Josh Jones the fifth-best tackle prospect. Jones, 6'5", 319 pounds, started 36 games at left tackle for the Cougars from 2016-18. He acknowledges his game will need refinement as he makes the transition from Saturdays to Sundays.
"Of course I'm not a finished product yet, man. I still have a long ways to go," he said. "With my technique, just technique-wise, they think I should get better at that, become a true offensive lineman. Just keep working to refine my game. I'm already a good player, but I still got a long ways to go."
A second-team all-conference performer his senior year, the long-limbed Jones is a good mover who can get to the second level in a hurry.
"This whole NFL game is going to movements and outside zones, and reaches and pulls and a lot of that," he said. "That's what I can do. I'm athletic. So, I think it's prepared me well for the next level."