Geno Smith's struggles led to head coach Rex Ryan's decision to bring in Matt Simms for the second half of our 23-3 loss to the Miami Dolphins on Sunday, but the Jets coaches have decided that Smith will remain as the starting quarterback for this week's game against the Oakland Raiders.
"I'm going to go with Geno as our quarterback," Rex said during today's news conference. "I believe in Geno. I think he has the tools to be a good quarterback in this league."
In the seven games since Smith's three-touchdown, no-interception Monday night win over Atlanta, he's thrown just one touchdown and 11 interceptions. He's completed fewer than 10 passes in each of our past four games.
Geno's individual numbers haven't been pretty, and the team's three-game losing streak certainly doesn't help, but No. 7 has not lost the support of his teammates.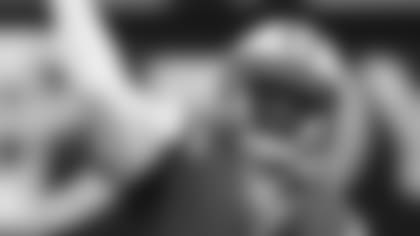 "He's only struggling because we're not helping him out," G Willie Colon said. "That's the bottom line. When you look at the tape, it's a guy getting beat here, a back missing a protection, a receiver not running the right route, so it's not him individually making these bad choices. I mean, yeah, there's some things he probably could have back, but looking at the whole big picture, not everybody is playing at a high level."
Smith's support goes beyond the guys standing in front of him on Sundays to the guys sitting behind him on the depth chart as well, fellow QBs Matt Simms and David Garrard. They both spoke to the media in front of their Atlantic Health Jets Training Center lockers this afternoon, and both made it clear that while they'd love to play, they're all for helping Geno and the Jets in any way they can.
"We're competitors. Everybody wants to go out there and compete," Simms said. "Obviously when you get out there on the field and get a taste of the real action, you just want more of it. But nonetheless, Geno's the man and I'm going to support him and prepare like I have been and if my number's called again then I'll go out there and play as hard as I can again."
"They have their reasons why they're sticking with Geno and Matt," said Garrard, the 10th-year veteran. "I'm here to support those guys and just be ready if my number is called, so I can't worry about what they're thinking in their meeting room, I just have to be ready for myself."
Simms has been listed as our No. 2 all season, while Garrard has been inactive on gamedays as our No. 3 QB since he came out of retirement and signed with the Green & White in late October.
Simms said half-jokingly of his second-half performance against the Dolphins, "I did enough to solidify that I'm still the two, so at least I didn't play myself out of my job."
The QB depth chart might be fluid from week to week as we round the bend into the last quarter of our season, but the team's support for Geno Smith will remain consistent.
"I have guys like Jaiquawn [Jarrett] and Snacks [Damon Harrison] and all the defensive guys, guys on offense, the receivers, they all come up to me and they say, 'Hey, keep your head up. We believe in you. We know we're going to get through this,' " Smith said. "To have that support from the coaches, from my teammates, it makes me want to do even better, go even harder in practice, just to make sure those guys see that I'm giving that extra effort for them and for this team."