The Jets offense never found a groove in the team's 28-3 loss to the Cardinals on Monday Night Football, leading head coach Todd Bowles to go with a QB change midway through the fourth quarter. Down 25 points, Geno Smith replaced Ryan Fitzpatrick with eight minutes remaining in the game.
"The starting pitcher wasn't doing it this game, this day, you put in the relief pitcher," he said. "Fitz will be back next week."
Fitzpatrick completed just 16 of 31 for 174 yards and he was intercepted once in the end zone, finishing with a passer rating of 55.0. He played nine series with six covering four plays or less. The Green & White failed to convert on third down until midway through the third quarter, finishing 2-of-13 for the game. Under frequent duress, Fitzpatrick was hit six times and sacked once.
"I mean tonight was a mixture of things. But in the first half especially, I didn't hit some throws that I've got to hit," Fitzpatrick said. "There were probably four occasions where I could've made a better play. I think we had some penalties, we had some longer third down distances, but we still had the throws and I just didn't make them. So, as an offense, we're just not consistent right now and the offense goes as the quarterback goes. So I've got to play better."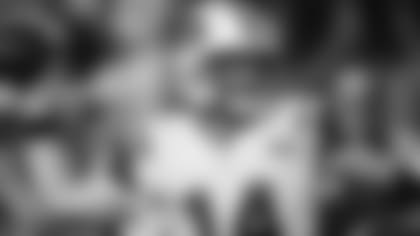 The Jets couldn't run the ball against the Cardinals, averaging just 2.4 yards on their 14 attempts. The offense was also responsible for four of the team's season-high 10 penalties. Trailing 7-0 in the second quarter, RB Bilal Powell appeared to set the visitors up with a first and goal. But a 10-yard carry was nullified because of a holding penalty and K Nick Folk capped off the team's only scoring possession with a 39-yard field goal. Later the Jets squandered another opportunity for points before the half after Fitzpatrick was called for a false start penalty.
Bowles cited game reps as the primary reason behind Smith's insertion. In his lone drive , the West Virginia product completed his first four passes to four different receivers. But Smith, who finished 4 of 6 for 31 yards in his first action of the season, was picked off by DB Tyrann Mathieu on a fourth and 11 desperation throw intended for rookie WR Charone Peake.
"However we have to get wins, no matter who the guy is, no matter who sparks the offense, we have got to figure it out," Smith said. "Right now we are not doing well. I think we are playing hard. I don't think it is a matter of effort, but we are not executing and making enough plays to put ourselves in position to win games. It's not about me, and I can't say that enough. It is about all the guys in that locker room, all the hard work that we put in throughout the week and just continuing to stay the course. Staying the course, sticking together and finding a way to win."
Best Images from Monday Night Football