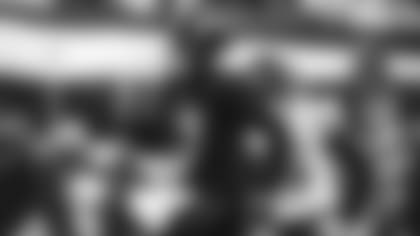 The afternoon was a rainy, chilly Sunday of football at MetLife. But the Jets went from dreary to cheery with their 31-10 bouncing of the Chicago Bears. And one intense, talented young man was among the cheeriest of all.
"We all just did our job and we did it well," rookie WR Garrett Wilson said on the still soggy MetLife Stadium turf. "We came into this practice week really focused. We wanted to be detailed and it showed today. Regardless of the weather, we were detailed and that shined through."
The details on Wilson's season continue to impress. He had two touchdown receptions from new/old QB Mike White — a wide-open 8-yarder just 4:48 into the game, then a 54-yard catch-and-run to the right goal line pylon to put the Jets back on top, 14-10 with just under five minutes left in the first half.
Both of the scores were significant. The first gave the Jets their first opening-drive touchdown of the season and their first opening-drive TD against the Bears in eight games, since 1994.
And his second was for the team and for himself. It gave the Jets a lead they would never lose in the Meadowlands precip, and it was his second two-TD-receptions game of his young career, with the first coming in Game 2 at Cleveland. He is the first rookie in franchise history to execute that double double.
White described the play as it developed from his end.
"I saw they were in man coverage," the QB said. "The guy I needed to beat was the linebacker, and I just felt I could get the ball over him and get it to Garrett. And Garrett got open, which Garrett seems to do a lot, and then made the play when the ball was in his hands."
"One of the players fell, and I think the dude that was guarding me overplayed me," Wilson remembered of the longest Jets rookie TD reception since Elijah Moore's 62-yarder vs. Miami a year ago. "I knew I had some room and I wanted to make a play. We were losing at that point. It was good to make a play and get back in front."
Wilson added to his day with his other receiving numbers, five catches for 95 yards. He just missed his third 100-yard receiving game, which would have been and still may be the Jets rookie record for a season. But he now has four 90-yard games, putting into the company of wideouts such as Ja'Marr Chase, who had six 90-yarders as a Bengals rookie last year, and Justin Jefferson, who had seven of them for the Vikings in 2020.
Yet all those stats and distinctions didn't seem to do as much for Wilson as did White's 149.3 passer rating,
"I can't say I expected ... what did he have, a 149 passer rating? I didn't expect that at all," Wilson said. "But I expected him to go crazy. No one's more deserving."
And all are more deserving than any one player anyway. Wilson was dreary after the Patriots loss, critical and emotional of the offense that managed three points in a 10-3 loss. But head coach Robert Saleh didn't fault his rookie then and was happy to have him lighting up the stadium and the locker room again during and after this healing victory.
"Garrett is still a young pup. There is still so much more meat on the bone for him as he continues to get reps and grow and learn," Saleh said. "His success is everyone's success because it's going to open it up for everyone else when the other team's trying to take him away. They have all been working their absolute tails off, just staying internally focused and trying to do their best. When you piece it all together, you end up playing a pretty good game.
Kind of how the young man with the sticky hands and crazy moves saw it after the game.
"If I scored or not, I was happy to be part of a win and just glad we won," he said. "I'm proud of everybody out here. We did our thing and I'm just grateful to stand up here today, to be the person I know I am, and contribute to winning the game. I'm blessed."