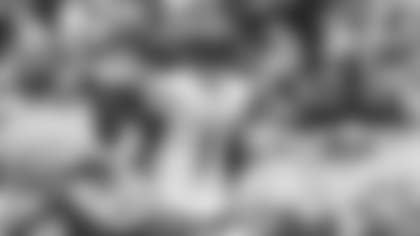 Thank goodness, Jets fans might be saying, their team drafted Ahmad "Sauce" Gardner with the fourth overall selection of the April draft. Otherwise he might have wound up somewhere else that made him feel at home, like in Green Bay.
There was Aaron Rodgers, for instance. QB Zach Wilson isn't the only Jet with a connection to the Packers' future Hall of Famer.
"Just being able to play against somebody like Rodgers, that was a true blessing," the Jets' rookie corner said after the Jets' 27-10 road victory. "I grew up playing Madden, and he's always been on Madden since I can remember."
Then there was his little Cheese Sauce routine.
"Running off the field with cheese on my head, that was a crazy feeling," Gardner said of the Cheesehead wedge that he got from one of the Lambeau denizens and wore to the locker room. "I'm never going to forget that."
But there doesn't look to be a Green Bay deal in Gardner's future anytime soon. A Packer player came over and knocked the cheese off Sauce's head, for one. For another, before putting on the parmesan, Gardner made a lot of other spectators in Lambeau Field feel a little cheesy queasy.
All of those spectators except for the pockets of Green & White faithful in the Lambeau stands, who are traveling again and welcomed Breece Hall into a Lambeau Leap after his 34-yard touchdown and who cheered on Sauce and his teammates during the game and lingering on the Lambeau turf after yet another significant victory.
"I didn't expect that many Jets fans to be there today," Gardner said. "They were crazy, man. The stadium was very electric. The Jets fans, they had their energy for sure. I felt like they played a huge part in the W."
So did Sauce, but that's getting to be a lot like what head coach Robert Saleh says about victories: The Jets want to win, they're happy to win every game, but now they're expecting to win.
Gardner won almost out of the box, in the first minute of play when Rodgers' pass popped up off of diving TE Robert Tonyan's hand and into Gardner's grasp, so he sped down the sideline for a "touchdown," only to have the score reversed when ref Clete Blakeman ruled the ball touched the turf a nanosecond before it bounced off Tonyan's fingers.
But there was more of the same from the Sauce of his first five pro games. He had two more pass defenses, one short on WR Romeo Doubs and one long on Allen Lazard. Talk about run-of-the-mill. Gardner has at least one sack in every game and eight for the season, and those eight are the most after six games by any Jet since Morris Claiborne had nine in 2018 and the most after six games by any Jets rookie since Dwight Lowery also had 8 PDs in 2008.
"I played decent," Gardner told newyorkjets.com's Caroline Hendershot. "There's always some stuff I could do better, but I felt I had a pretty decent game today."
So did the entire defensive operation. The rush defense gave up a season-low 60 yards on 20 carries. The pass defense had no interceptions but broke up five Rodgers passes, while the pressure produced four sacks of the Packers' iconic QB and hit him nine times, led by Quinnen Williams' two sacks and three QBHs.
"I thought our defense has been playing really well the whole season, with the exception of the Cleveland game, maybe," Saleh said. "I thought our defensive line was outstanding today, the back end was outstanding. And especially on third down, I felt if we could just have a good day on third down, we'd show dominance."
And the Jets did that by allowing the Pack four conversions in 16 opportunities while the Rodgers passing game completed 28 of 45 for 218 net passing yards, or 4.45 yards/play. Coupled with the Dolphins' 4.39, it's the first time since 2019 the Jets have held their opponents to less than 4.5 pass yards/play in back-to-back games.
It's all music to Sauce's ears. And we suspect he'll be groovin' whether it's at MetLife, or wearing a horse's head next week at Denver or at any other venue where he can display and polish his pro craft.
"We just went out there with the mentality that if they can't score, they can't win," he said, adding about the Jets' rapidly changing culture under Saleh and his staff, "I enjoy it every week, man. It's the preparation that's the main thing. We know what we've got. We're just going to keep going. I enjoy it a lot."