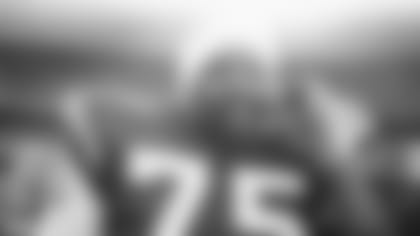 It's always bittersweet when a great athlete is inducted posthumously into his sport's Hall of Fame. But Winston Hill's football family was of one mind upon hearing the announcement this morning that "Winnie" has been selected for entry into the Pro Football Hall of Fame:
"I'm so glad it happened," guard Randy Rasmussen said. "It was so deserving. We were thinking about it. I'm sure everybody is excited. The players are really excited."
"Winston and I were the captains of the team back then," center John Schmitt said, "and he was the spiritual leader as well as an All-Pro offensive tackle, a hell of a tackle. Trying to get around him, it was like he had glue on his hands. He was fantastic, a great teammate and a great guy. Finally the Hall of Fame opened its doors and we're very happy they did."
Concerns that Hill could be overlooked were legitimate. After he retired in 1976, his achievements were well-known — his franchise-record eight all-star berths, four in the AFL All-Star Game and four in the NFL Pro Bowl, his franchise mark for offensive linemen of 195 consecutive games played and 174 straight starts, his No. 75 jersey being retired in 2009, his presence in the Jets' 2010 Ring of Honor inaugural class and on the Jets' All-Time Team revealed in September. And, oh yeah, his Super Bowl ring.
Hill's Valuable Lesson to Rasmussen
But he was never a Hall of Fame Modern-Era or Senior Candidate finalist. When he died in 2016, there was a fear that over time his achievements could be forgotten. However, the NFL's Centennial Celebration this year, a part of which was the plan for the HOF to select 10 Seniors as members of an expanded Centennial Class of 2020, made him memorable once more.
There were also many stories about No. 75, about how he played through a broken leg in the 1965 preseason and through a stepped-on throat in 1974, about his tennis prowess before the NFL and his career as a barbecue restaurateur after it. And his old Green & White teammates provided a few more today.
Rasmussen, who lined up at LG next to Hill at LT from 1967-70 before Hill swung to RT for the rest of his career, said that Hill "would always come back to camp early, ahead of the other vets, to see who his competition was. But who was going to compete with him at that point?"
Rasmussen remembered a lesson that Hill, two AFL seasons his senior, taught him after a practice in his rookie training camp.
"He said, 'Randy, you're having a little trouble pass-blocking,' and I said, 'Yeah, a little bit,' " Rasmussen said. "He said, 'grab my shoulder pads,' so I grabbed his breastplate on the sides. 'Now I want you to lift and pull toward you.' I did, and his shoulder pads went up to his chin. 'You see, Randy, now I can't do anything.' I said, 'But Winston, that's holding.' He smacked me so hard and made me do it again and said, 'Now you're pass-blocking in the American Football League.' "
"He was the kind of guy who would help anybody with anything," Rasmussen concluded. "And I'll never forget that one. Pass protection was vital with Joe Namath."
Winston's One-Liner for Schmitt
Schmitt's reminiscence was of a humorous nature, coming after the Jets' center had spent five days in the hospital and lost 20 pounds due to a severe case of preseason flu.
"We were playing the Buffalo Bills, who were the AFL champions the year before, and Coach Ewbank asked me if I could possibly play," Schmitt recalled. "I said I would play as long as I could, but I could barely walk.
Schmitt said he was slightly delirious when his medication kicked in in the first half and he was making some off-the-wall line calls. After one set of calls, two players away, Hill yelled back to his center, "Schmitty, I don't know what page you're on but it's not in our playbook this week."
"Even the defensive linemen started laughing at that," Schmitt said.
Hill's Hall of Fame selection will be repeated Feb. 1, when the Modern-Era inductees are announced the night before Super Bowl LIV, and on Aug. 8, when the Modern-Era players, coaches and contributors are formally enshrined in Canton.
And Hill's families will be well represented when he is enshrined along with the nine other Senior Players during the "once-in-every-other-lifetime" Centennial Celebration in Canton on Sept. 16-19, when the Seniors are enshrined. His daughter, Heather Hill, said his family will be in full force for the ceremony, "as many as they'll let us bring." (We'll hear more from Heather later this week.) Schmitt expects a full complement of surviving teammates will be on hand.
Frank Ramos, the Jets' public relations director from the Sixties all the way into the new millennium, summed it up perfectly for No. 75 and his followers.
"Winston Hill entering the Hall of Fame is one of the greatest days in the history of the New York Jets," Ramos said. "He was the most honored Jet of all time, but he was an even better husband, father, friend and person doing so much in his community. He's been deserving of this honor for so many years and it's a shame that he didn't live to enjoy it, but his family and the Jets family and the Jets fans will cherish this day."