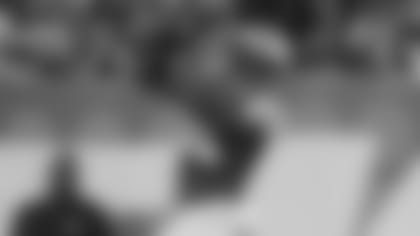 Quincy Enunwa was ready for his first postgame closeup since Jan. 1, 2017, complete down to his white T-shirt adorned with a single small cat sitting over his left breast and several bigger cats chilling on his back atop the small slogan: "Cheetahs Never Prosper."
What did it all mean. Was it a freebie from the World Wildlife Fund? A tribute to defensive mate Leonard "Big Cat" Williams? A feline play on words?
"It's more of a pun," Enunwa agreed with a laugh. "You know, cheaters never prosper. Yeah."
He didn't elaborate further, so we're left to speculate on the obvious: The slogan appealed to Enunwa at this time because he would never have prospered again if he cheated on his year-long rehab from that neck injury at the Green & White practice that cost him his 2017 season.
Yet here he was, enjoying preseason accolades from reporters late Friday for his modest two receptions in the 22-16 loss to the Giants, for 28 yards and two first downs — but again, his first two catches in any game since that New Year's Day win over Buffalo.
"They really wanted to get me out there and get me ready for the season," Enunwa said about playing on every offensive snap in the Jets' first half, 29 in all. "I took it in stride. It's always great to be back out there. It was a little exhausting at first. It's football, your adrenaline is rushing, it's not like practice anymore. So I'm going to be exerting a little more energy.
"But I had fun. I made plays when I needed to. And I really wanted to go out there in the second half, so it was good."
It was also good for rookie QB Sam Darnold, who threw to him three times and found him for those two receptions, a 12-yarder over the middle on first-and-10 on the game's third offensive play, then a 16-yarder when he broke to an open spot down the left sideline to convert third-and-6 on the first play of the second quarter.
"He's a great receiver. A big body, too," Darnold said. "Really physical, really quick. So it's awesome to get back out there and see him moving around really well and catching the ball."
"Q" was well aware of how long it had been for him latching onto the leather in any game, but I asked him if it was as important to him to have contributed a move-the-chains catch on each of Darnold's and the Jets' first-half touchdown drives.
"Oh, yeah, for sure," he said. "I wish [the opening drive] would've set the tone more, but I think we did a really good job just executing the game plan, going out there making plays. ... When you start out that strong, you've got to continue to do that each and every play.
"But just showing that for this game was good, and I'm looking forward to us continuing to do that."
That's the game plan for Enunwa and his cheetahs and the Jets offense. There's much more to do before they all have a prosperous 2018, but so far so good.