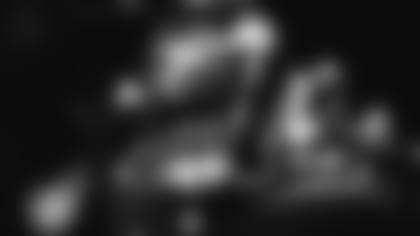 Life is a competition for Quincy Williams. The Jets linebacker talks about the sibling singing contests he has with younger brother Quinnen, which Quinnen tends to win — "He's a big singer," Quincy said.
But food preparation? A different matter.
"The next day off, we're going to have a cookoff," the Jets linebacker told Bart Scott and Dan Graca on this week's "Inside the Jets" show. "If culinary school had a football team, I for sure would've gone to culinary school. But they didn't, so I had to put that on the back burner."
But's it's mostly been front burner stuff for Quincy on the field for the Jets. Despite Sunday's home loss to the Eagles, Williams was again ranging all over the MetLife turf. He had 13 tackles, his third double-digit tackle game of the season and his second in three games.
And he was in on five tackles for loss/no gain (two solo, three split), which has been one of his specialties since taking the field in green and white in Game 2. He's unofficially got 13.0 tackles at or behind the line if we include zero-yard gains on runs and receptions, 8.5 tackles if we include only losses. Both totals easily lead the defense.
"People always ask me about making a lot of tackles," Williams said. "But I don't call them tackles, I call them hits. I like people to fear me. And most of the time I talk with my pads. I'm not really a hoo-rah type of person. I don't give any motivational speeches before the game. I just tell 'em to meet me at the ball, because they know I'm going to be there first.
"It's like a competition," Williams said. "Me and C.J. [Mosley], after the game, we look and we'll be like, 'How many tackles did you have?' And we always go back and talk about 'How many missed tackles did you have?' because those are more important than the actual tackles that we get."
It's interesting to consider how Quincy Williams slipped through a few cracks before he started caulking those gaps with his competitive juices. He divided his time at FCS Murray State between safety and linebacker and was Jacksonville's third-round pick in 2019. He started eight games as a rookie, none as an NFL sophomore, was waived by the Jaguars and acquired by the Jets on Sept. 1.
And he credits his current team for doing its homework and bringing him to its defense, which had strong veterans Mosley and Jarrad Davis already in house to get him up to speed.
"The main thing I get from the Jets is a second chance," he said. "When I first got into the league, I really didn't know much about the position and I was kind of thrown into the fire playing linebacker in Jacksonville. They had some great players there also, like Miles Jack. But now I get to play alongside C.J. and J.D. and actually learn to be a pro and prepare myself.
"We'll watch film together and they'll be like, 'What did you see right there?' Or I'll ask them, 'What did you see right there?' So it helps me out on gameday, which makes me play a lot faster. And then I just let my superpowers take over and run and hit, and I can do that easily."
There's no question Williams has skills. Besides the TFLs, his 71 tackles are second on the D (behind Mosley's 101) and he also has two sacks, three pass defenses and is tied for the team forced fumbles lead with S Ashtyn Davis at three.
Williams also occasionally overran and missed plays, but D-coordinator Jeff Ulbrich explained that wasn't a lack of discipline but rather a lack of understanding a new scheme.
"I think what you've seen the last couple of weeks is less and less of those types of plays and more of doing right and being in the right place. Now he's becoming more reliable and dependable within the confines of the defense," Ulbrich said. "It's really cool. I don't know how the league perceived him, but I know that we always held him in high regard. But for him to finally start to become the payer we thought he could become is really cool."
And now Quincy's got five more games of his first Jets season, and as he said, he's "taking them personal."
"I've got five more weeks to put what on film for everybody else to see. ... It's a proving thing," he said. "It's just about proving there's a reason that I'm here."