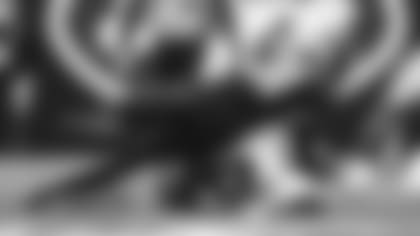 The Jets' MetLife Stadium locker room was a joyous, even raucous, place after their 34-27 Sunday victory over the Giants.
Among the many contributors was Blessuan — call him Bless — Austin, the rookie corner who had just made his NFL debut and in fact played in his first game in 14 months. He came off the bench for almost 50 plays, racked up three solo tackles, defensed two passes, and forced the all-important fumble on the Giants' final lateral play that Quinnen Williams recovered to secure the victory.
Yet in the middle of the winning din, after his successful return to the game he loves, there sat Austin, chilling at his locker. Reading.
It wasn't the Bible but a related book titled "God Will Carry You Through," written in 2013 by pastor Max Lucado.
"Yeah, I don't mind. Most definitely mention that," Austin said. "I just know in my darkest times I've relied on my faith. That's why after the game I had to get a little read in, to show my appreciation."
As Jets fans may know, the darkness on the football field came in his last two seasons at Rutgers. He tore his ACL early in 2017, then reinjured the knee in the '18 opener. Off of their scouting of his college career, which included a productive sophomore season, the Jets took a chance on him with their sixth-round pick in the April draft. Then they placed him on their Non-Football Injury List, where the Queens native worked his butt off trying to get ready to contribute to this Jets season.
Austin said he "turned the corner" on his knee around Week 2 of the regular season. He was elevated to the active roster a week ago and was active for the Giants. And if you thought he might've been nervous as his first pro snaps in the Jets' injury-filled secondary drew ever closer, well, you don't know Bless.
"I didn't have nerves, to be honest with you," he said. "I just trusted my training. My DB coach [Dennard Wilson] did a great job of preparing me for this opportunity, so I wasn't really nervous at all."
"Most definitely," he replied. "I felt like I was at home out there. I was telling some of the guys, I feel like I'm at home. I was on that field, man, it's been a while. Just to be out there again ... grateful."
And as we mentioned above, he wasn't just happy to take up sideline space. His contributions were welcome by many, including head coach Adam Gase.
"He does not lack confidence," Gase said at his news conference today. "He's given us problems on scout team. He was driving us nuts because guys were struggling to get open. He has a good feel for route concepts, he's aggressive and he gets his hands on balls. Seeing him get out there and play in his first game in I can't imagine how long, I thought he did a good job and we're just going to try and build off of that."
"It went well, but I dropped a pick so I'm kind of upset," Austin assessed, referring to what from the stands looked like a tough leaping interception attempt near the Jets sideline in the third quarter. "I hold myself up to a high standard. I don't like leaving plays out there. I feel like I would've put the team in a better position if I was able to come down with that interception. So I've just got to keep working."
That appears to be what Austin is all about. He's grateful for his opportunity but says that won't affect his schedule. He didn't even have to wait until Monday morning to know how he would feel after his first full day on the gridiron in a long time.
"When I wake up tomorrow, I'll get a little workout in, make sure I stay in shape. Work don't stop," he said. "I feel amazing. This is probably the best I ever felt after a football game. That's because I worked in the offseason, made sure everything was right and strong to get ready to play pro ball. So now I'm just back to work tomorrow."