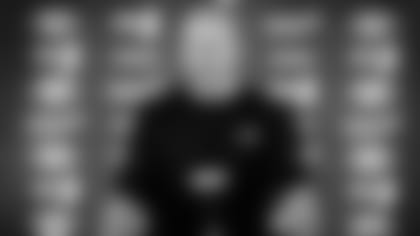 The next milepost in Robert Saleh's highway as the Jets' first-year head coach is being passed today as the Jets players report to the Atlantic Health Training Center for the start of their first "normal" training camp in two years.
And Saleh did his best to tamp down wild enthusiasm on this first day, noting that "today's kind of boring" due to the "administrative stuff" that the coaches and players will be involved with before suiting up (initially without pads) for the first practice of camp Wednesday.
But he showed some of his "wild man" side when asked by reporters this morning what his mindset is after taking his Jets from OTAs and veteran minicamp to his first training camp as an NFL head coach.
"Excitement," Saleh said in a word. "This is going to be a fun group to work with. It's young, it's hungry, and they've all got a positive attitude come out of minicamp. They're all excited to get another shot at going through the installs again, showing what they can do and can't do. And it's going to be a really cool process to go through over the course of the next week. I'm really excited about all these practices."
One player who didn't report on Tuesday was Zach Wilson, the rookie quarterback selected second overall in the April NFL Draft, since he's the only draft choice who had yet to sign his contract with general manager Joe Douglas and his front-office team. But Saleh maintained a careful optimism about his new No. 2's arrival on the scene.
"This is business, and Joe's got a great handle on everything," the coach said. "And when it gets done, it gets done."
Meanwhile, all Jets under contract were believed to have reported, and some expressed their excitement in their own personal ways.
For LB C.J. Mosley, the juice comes from participating in his first Jets practice of any kind since 2019, since he opted out due to COVID concerns all of last season. He's also picking up where he left off with his first extended action as a pro, with the Baltimore Ravens in 2018, before he signed as an unrestricted free agent with the Jets the next offseason.
"I'm halfway shaking now," Mosley said with a smile. "I've been ready. I am ready. ... Once you turn into One Jets Drive, it's a different mentality. That's just a mindset I want to have every day and a mindset I want to instill in everyone who's here or who comes here."
As for himself, Mosley said he weighed in "around 231" pounds last week — "probably haven't been there since I got into the NFL." And he repeated his high expectations from the offseason for his hoped-for full season ahead.
"Honestly, I feel like I'm a better player than what that game was," he said of his dynamic Jets debut in the 2019 season opener against Buffalo, virtually his entire season cut short by his third-quarter injury in that game. "I'm tired of seeing those highlights for the last two years. I'm ready for some new tape. Whatever you saw that game, I'm going to be way better this year and in years to come."
LT Mekhi Becton was on hand last year for his rookie Jets season. Like Mosley, he said he, too, lost weight this offseason. Unlike C.J., Mekhi said he wasn't going to share where he weighed in at today. But like all the other Jets, Becton was glowing in his expectations for himself and his offensive linemates.
"We've been waiting so long, all offseason. Now it's time to get out there and get going," he said. "As a line, we're going to do a lot of things people are not expecting us to do. I'm really excited about this group."
Guard Greg Van Roten had similar good vibrations, about his O-line, his team and especially his coach.
"I'll be honest, I played against him, and you'd see him on ESPN jumping around," Van Roten, the former Panther, said of Saleh when he was the 49ers' defensive coordinator. "You're like, this guy needs to calm down a little bit.
"But now, being in his building and around his staff, there's no doubt as to the culture he's trying to instill. So he's been a joy to be around these first few months. I'm excited for camp, and I'm really excited about the trajectory of the team going forward."