Eric Decker's back on the practice field and in the locker room and all's right with the Jets wide receiver corps, at least for now.
We say for now because, the wideouts, being the work in progress that they are, need all hands on deck as often as possible this offseason. And with big unrestricted free agent signee Eric Decker away in Nashville last week to be a presenter with his wife, country singer Jessie James, at the 2014 CMT Music Awards, well, some fans and media were wondering about commitment and priorities.
But that was never a concern of Decker, nor of his boss, Rex Ryan. Both said all the right things after today's OTA at the Atlantic Health Jets Training Center.
"As I mentioned before," said the head coach, "these are voluntary workouts. Things come up, and anytime somebody has something dealing with their family, they will always be excused — always. This was a good thing, not a bad thing. We certainly had a conversation about it, not that he needed my blessing, but he certainly had it."
And despite Decker not needing anyone's permission to miss a June practice, he was appreciative of his coach's stance.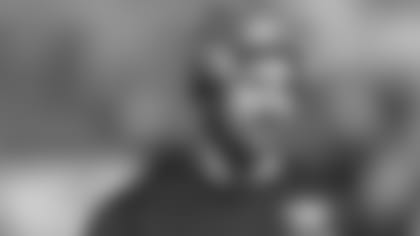 "That's what so great about Rex Ryan, and really this organization," Decker said. "Everyone here is a family. You take care of one another. That's how you build a winning culture. I've got a lot of respect for him, and for him to stand up and say that means a lot for me."
Decker means a lot for the offense, of course, and he picked up where he left off with a strong showing today, especially during red zone work. Afterward he had praise for his position mates.
"We've got a young group in there, but we've got a lot of talent, a lot of raw talent. It's about kind of finding your identity, and for a lot these guys, this is the time to do it," he said. "Through practice and through my experiences, I hope to help. David Nelson has been around for a while, too, so both of us just kind of sharing knowledge as far as our experience is huge for these guys just to develop.
"The best part is we have fun in the meeting room. We're there to learn, but we all respect one another, we all have fun on the field and that's what it's all about. That's how you make this game great is by having fun and working hard."
Yes, we know Peyton Manning was throwing to Decker the past two seasons, but how might No. 87 help our offense inside the opponents' 20 this coming season? Here's a hint: