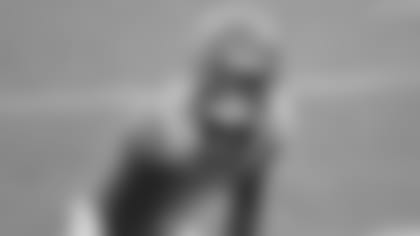 The Jets' third pick -- No. 34 overall -- in last week's 2021 NFL Draft, Elijah Moore is a glittering, diminutive wide receiver who was sitting there for the Green & White at the top of the draft on Day 2.
"We really didn't think Elijah had any chance to make it to us," GM Joe Douglas said. "To get a player of his caliber at 34, we had a unique opportunity to add three players [Zach Wilson at No. 2 and Alijah Vera-Tucker trading up to No. 14] who were in the top 25 on our board. All three first-round caliber guys are impact players for us. While you do answer calls [to move down], this was an opportunity we couldn't pass up to take Elijah."
Moore (5-9, 185), who had been projected as a mid-to-late first-round selection, is an explosive receiver who can play in the slot, on the outside, or ramble out of the backfield on a jet sweep. He had a huge 2020 season for Ole Miss, setting a school record with 86 catches for 1,193 yards in 8 games (he sat out the final two games to prepare for the draft). He led all of college football in catches (10.75) and receiving yards (149.1) per game. In addition, he caught 97% of catchable targets beyond the line of scrimmage in 2020. After opting out of those two games, he turned in a blazing 4.35 in the 40 at the Mississippi pro day.
"I feel like I understand the craft," Moore said. "I feel like football and being a receiver is more than catching the ball and just running. I feel like you have to understand what you're doing and the art of getting open. I take pride in it. There's a lot more that goes on out there than what people see on the TV. If they really understood, they would think it is something beautiful."
According to exhaustive research conducted by Randy Lange of nyjets.com, in the last 12 FBS seasons combined, Moore's 10.75 catches per game were the fourth-best among all qualifying receivers. Also on that list are Davante Adams, the Packers' perennial Pro Bowler; and Zay Jones, who started with the Bills and is now a Raider. Then there's Jordan White, the Jets' seventh-rounder in 2012 who had 140 catches for Western Michigan in 2011, then 1 catch in three games as a pro.
As for yards a game, Moore's 149.1 is the best in the college game over those past 12 years. Justin Blackmon, a Jaguar for three seasons, came closest with 148.5 for Oklahoma State in 2010. White, third in catches/game, shows up third in yards/game also at 147.0.
Moore joins a wide receivers room that has been bolstered in free agency with the addition of Corey Davis and Keelan Cole who join incumbents, including Jamison Crowder, Denzel Mims, Braxton Berrios, Vyncint Smith, Josh Doctson and Jeff Smith. The rookie offers elite and dynamic play-making options that have the potential to supercharge the new offense being installed by coordinator Mike LaFleur.
"He can be in the backfield," Head Coach Robert Saleh said. "He can get those jet sweeps. He can play the X [outside receiver]. He can take the top off of the coverage. He's dynamic in that you can do a lot of different things with him.
"He's dynamic. When he gets the ball in his hands, he becomes something different. His ability to separate on routes, run the jet sweeps, come out of the backfield — he's extremely versatile. I'm ecstatic he was able to get to us. There's not a lot of things he can't do."
The Jets' first four picks in the draft -- from the team's 10 overall picks -- were all players for LaFleur's offense. In addition to QB Wilson, OL Vera-Tucker and WR Moore, the Jets took UNC running back Michael Carter in the Round 4 (No. 107 overall).
"The one thing that's the common denominator, is explosive playmaking ability," Douglas said earlier this week on The Michael Kay Show on ESPN New York. "And so, I think that's why we're so excited about Elijah and Michael is that they bring that explosive element to the offense and special teams."
Douglas added in a post-draft news conference: "We all know that the SEC is the best league in terms of talent in college football and for him [Moore] to have that production and ability to align in so many places -- slot outside, tailback -- is impressive. He has the ability to separate and outstanding ball skills, he's not 6-feet, dangerous after the catch, strong for his size, toughness to go over middle that you see week-in and week-out at the highest level of college football."
Moore, asked if he modeled his game after any other receiver, said yes and no.
"I don't think I play like anybody," he said. "I take a lot of stuff from a lot of different people. I don't even watch football highlights. I take a lot of things from people and put it into my game. Looking at it, I don't think I play like anybody that's been in the league.
"At the end of the day, when the lights come on, when it's time to go, I'm going to be ready. It's all going to come to the light."