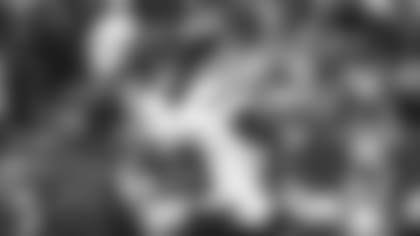 Jets rookie wide receiver Elijah Moore gave a gritty response to a question about the injuries that have befallen his quarterbacks, first Zach Wilson and then Thursday night in Indianapolis, Mike White.
"Next man up, you know? Football brings obstacles," Moore said. "And we've got to trust in anyone who's out there, anyone who's in the building, anyone who comes in, anyone who works with us, grinds with us, puts in the blood, sweat and tears. I believe that they're ready."
The Jets, meanwhile, must believe that Elijah Moore is ready for takeoff. In the 45-30 loss to the Colts, Moore was true grit personified, one of the shining lights for the team wearing, for the first time, its Spotlight White jerseys with the Gotham Green trim and the Stealth Black pants that never really had a chance after falling behind by 42-10, yet still scored 20 of the last 23 points.
For the night, Moore led the Jets offense with seven receptions for 84 yards. His first two catches, from White, went for 26 yards to the Colts 19, then on the next play the final 19 yards for his first pro touchdown. He added his second TD, another 19-yarder but this one from backup to the backup Josh Johnson, in the third quarter.
"It was a blessing. I can't do nothing but thank God," Moore said of the two scores, which made him the first Jets rookie with two receiving TDs in a game since Stephen Hill against the Bills in the 2012 season opener. Others to do it were Keyshawn Johnson in 1996, Rob Moore in '90, and RB Eddie Hunter in '87.
As for packaging this good night's work with Sunday's six catches on six targets for 67 yards in the win over the Bengals, Moore said, "There's more opportunity. I feel like the more games I play the more comfortable I get. ... Overall it's just a blessing."
Head coach Robert Saleh was counting his blessings that Moore and fellow rookie Michael Carter, who gained 86 yards from scrimmage vs. the Colts, were helping his offense rebound from its earlier struggles to produce 64 points and 997 yards combined in the Jets' last two games.
"Yeah, Elijah has had back-to-back good games," Saleh said. "The offense in general, all of them, are playing at a high level. The offensive line is doing a good job of protecting — that [Colts] line is not easy to block. The receivers are running routes at a high level, they're efficient, getting in and out of breaks, and the quarterbacks are doing a good job of getting them the football."
That, Moore said, is the plan, not for him alone but for his entire unit, to keep operating at an effective NFL level.
"We've got a lot of work to do," Moore said, "but that's how it's supposed to be. That's the way the offense is supposed to be run. We're supposed to put up a lot of numbers, a lot of yards, and get a lot of accolades for a lot of different players."
And one of those players is No. 8 himself. Moore knocked down a few more obstacles on Thursday Night Football as he continues feeling at home and hitting his stride as a Jet and in the NFL.