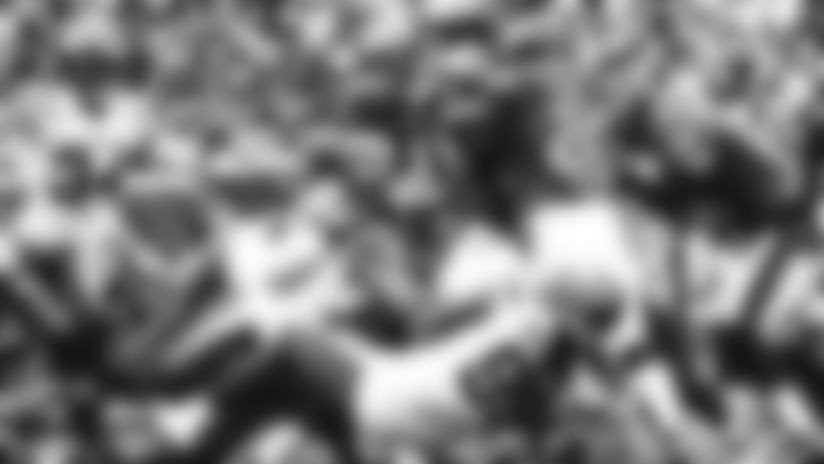 Spirits were low in the locker room after the Jets dropped to 0-4 on the season with a 31-6 road loss to the Eagles on Sunday. But DT Steve McLendon, one of the team's six captains, was proud of the way the defense performed against one of the NFL's top offenses.
"This defense right here, we're very relentless. When that team over there was still trying to run the ball, they couldn't," said McLendon. "When you think about this, I don't know how many plays they had but no matter how many times we took the field, we took the field with the same purpose: to stop them, regardless of the circumstance or situation."
The Eagles entered Week 5 ranked first in the league in third-down efficiency, converting on 56% of their attempts. After allowing three conversions to start the game, the defense kicked things into gear, and limited the Birds to a 38% conversion rate. As for the run defense— which entered the contest 6th in yards per carry—the Green and White broke Philadelphia down and allowed just 2.9 yards per attempt and a total of 84 rushing yards.
"As everybody knows late in the game, teams try to run the ball, and we buckled up and said, 'We're not going to let them run the ball,'" McLendon said. "We just have to continue to stack days like that and times like that. We have to keep being relentless and not change anything or who we are. Our coach just said it, 'Don't try and reinvent the wheel.' We're doing the right things and we're headed in the right direction. It might not look like it in the record, but in here we know it's going the right way."
In total, the Jets defensive unit allowed just 17 points and had two fourth-down stops. McLendon had a surge up the middle early in the third quarter, helping Leonard Williams corral Carson Wentz for no gain on a fourth-and-1. The 6'3", 310-pounder also reeled in the team's lone sack of the matchup.
"No matter the circumstance or situation, we have a job to do," McLendon said. "Our job is to stop the opposing team from scoring, regardless of what kind of situation we're put in. That's what we're trying to do."
As the team returns to One Jets Drive, the coming weeks won't get any easier. The Jets will be tested as they take on the NFC East co-leading Dallas Cowboys at home next week, followed by the undefeated New England Patriots.
"I don't want to look at the record, we just want to get back in the lab which we will do tomorrow and correct the things we need to correct from this game and start preparing for the next," said McLendon. "Right now, we're not going to reinvent the wheel. All we can do is keep stacking chips, keep chopping wood, and keep stacking days, putting good days on top of good days, and hopefully on Sunday have a good day as well."