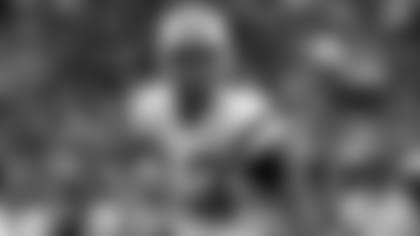 The dinner at MetLife Stadium three-plus years ago celebrating the 50th anniversary of the Jets Super Bowl III triumph was a brilliant evening with somber undertones.
"Fifty, that's it, there's no more after 50," LB Gerry Philbin said, with fellow 'backer Ralph Baker adding, "It's great to see my remaining teammates. I certainly miss the ones that aren't here, and most of us realize this is probably the last hurrah."
Cheers and tears accompanied the news that Don Maynard, the self-described "Country Don," the cowboy from El Paso, TX, and Ruidoso, NM, died earlier this week at the age of 86. Our tribute to him can be found here.
Getting to watch No. 13 during his Ring-of-Honor-able, Hall-of-Fame-ous career and then getting to meet and talk with him in his post-football incarnation is one of the highlights of my career covering the Jets. Don had an engaging way about him as a player, shifting his remarks at will from a bit of good-natured football pride to some down-home humility toward teammates, friends and fans.
"Thank you, I appreciate that," Don said at the cocktail hour before that big event on Oct. 15, 2018. "I've tried maybe all my life not to ever be somebody you would use the word 'bragadocious' about." And he punctuated his statement with his squeaky chuckle, a Walter Brennan-esque laugh that hinted of a happy disposition at a sometimes hard life always well lived.
Maynard loved engaging with people, whether they were fans from his Shea days or media types like myself. That night I was going to ask how to contact him if the need arose and he beat me to the punch: "If I can ever help you in any way, I've got a pretty easy phone number. ... I was fortunate I knew somebody at the phone company and they helped me out." His number ended with four digits: 1300.
One thing I wanted to ask Maynard that evening was not about any one of his 634 regular-season and postseason receptions in green and white, but what I have called "the greatest catch" in SBIII. As Jets fans know, Maynard had a hamstring injury from the AFL title game that forced him into the role of a zero-catch decoy vs. the Colts. But Joe Namath did throw Maynard's way a few times, and once the duo nearly combined on one of the most memorable connections in Super Bowl history.
It came on second-and-9 from the Baltimore 23, past the third quarter's midway point and with the Jets trying to expand their 10-0 lead. Namath, under heavy pressure up the middle, heaved it deep for Maynard, who had position on S Jerry Logan. Maynard went airborne, leaned back, grabbed and cradled the ball, trying to will his feet down in the end zone. But he landed solidly past the end line.
"Spectacular grab, but out of bounds," said Curt Gowdy, NBC's legendary play-by-play man. No replay was shown, and the official play-by-play reads simply:
Namath passes incomplete to Maynard (caught out)(Logan def.)
"The one that was out of bounds," Maynard said, knowing exactly the play I was referring to, then expounding not on the catch but on how his role dovetailed with the other receivers in the Jets offense that day.
"I just remember, I'm not positive, but I think Joe checked off and went for it and he came back to me as an extra receiver, not to pat me on the back but to complement [George] Sauer and [Pete] Lammons and Bake Turner. Everybody, every play, not only offense but defense, they did their job, and a lot of times you're not supposed to catch the ball. I really enjoyed that when I knew they were going to kind of double that side and the coverage was overlapping. I tell you what, I knew I didn't have to worry about catching it, all I had to do was clear out."
That play was, interestingly enough, the same one after which Namath, en route to his "spectacular" (Gowdy's word again) MVP performance, came out of the game shaking his right hand, the result of contact as he threw with RDT Fred Miller. Backup QB Babe Parilli came on and fired a hurried incompletion for Sauer before Jim Turner kicked his second field goal out of Parilli's hold for a 13-0 lead. Namath of course returned for the next series.
"Joe kind of took a hit from the helmet," Maynard recalled, "like when you hit your funnybone. It kind of tingles a little bit."
Maynard gave the crowd a few more shivers with his remarks at the dinner that night, concluding with a heartfelt statement of gratitude to all in attendance and elsewhere: "Thank you and all the great fans that we don't get a chance to personally thank."
Sadly, yet with great happiness at having seen him play and having known him since, we can only return the compliment extended by Jets Chairman Woody Johnson: Thank you, Don.