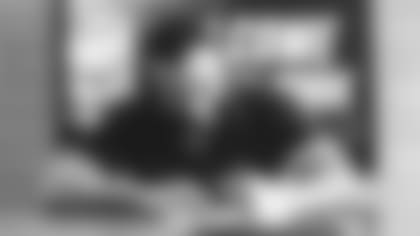 Solomon Thomas speaks in relentlessly moving, well-thought-out soundbites. In another life, or maybe in the life after his football life, he could be a TV news reporter or anchor.
But right now he's a defensive line anchor, the newest free agency signing by the Jets. And he told reporters about why he targeted the Green & White as he and his agent went through the UFA process.
"Figuring out where the best fit is for me, seeing who's signed, who's interested, who's making offers, you come down to some teams that you feel are the best fit for you," Thomas told reporters this week. "For me, it was easily the Jets. It was the team I really wanted."
Why would that be, after the Jets struggled defensively and won only four games last year? Thomas had several well-considered reasons. One up top was rejoining Robert Saleh, the Jets head coach who was Thomas' defensive coordinator his first four NFL seasons with San Francisco.
"Coach Saleh really attracted me," he said. "Knowing how he takes care of his players, how he coaches, the intensity and passion that he brings, his scheme and philosophy. and just how he runs the building, I know it's set up for success."
The scheme was another attraction for the former third overall pick in the 2017 NFL Draft out of Stanford. It's the same system he played under Saleh and for one year with Jets defensive line coach Aaron Whitecotton, who was his assistant DL coach with the Niners in 2020.
And what makes Thomas valuable as a Jet is not only becoming a part of a dynamic D-line rotation that Saleh seeks but being able to plug and play anywhere along that line.
"I like a lot of things about this defense. First of all, it's an attack front, getting off the ball," the 6-2, 280-pounder said. "I'm an undersized inside player but this is where I can thrive, I can use my athleticism, I can be quick, I can be explosive. Those are my strengths.
"And I fit, personally, everywhere on this D-line, and I have played everywhere on this D-line, in this system, in my career. The year I tore my ACL, I was having an amazing camp. I was killing the 3-technique and the 2i-technique [lining up off the guard's inside shoulder]. I believe I can get back up to that 275, 280 range. But I can also kick it outside, I can rush from a 9[-technique], I can rush from a 5. I can really do it all on this D-line and I've done it all on this D-line before. That's what I'm excited about."
There is a matter of low career production for the No. 3 pick of the draft. Thomas as a pro has totaled 9.5 sacks and the past four years combined he has nine tackles for loss. Yet he did make contributions to a building culture in San Francisco — when he arrived in '17, the Niners' defense was ranked 24th and they won six games. Two years later, the "D" was second in the league, first in net passing yards allowed, won 13 games and played in Super Bowl LIV.
Now he's left the West Coast for the East Coast and the Jets. He's back from his 2018 ACL tear — suffered against the Jets at MetLife Stadium — and, in his one year as a Raider, coming off arguably the most productive season of his career with personal bests of 3.5 sacks, 12 QB hits and two forced fumbles. And he believes he fits into the Jets' puzzle because of the growth he sees personally and teamwise — again — in a Saleh-led group of players.
"I wouldn't change a thing that happened over the last five years, whether it's being injured, no production," he said unflinchingly. "I've learned so much, I've matured so much, I've learned how to be professional, I've learned how to perfect my craft. ... This is my second year off an ACL and I'm feeling better than ever. I'm excited to go off, I'm excited to go dominate, I'm excited to go be the best teammate I can for this group."
As for the atmosphere at 1 Jets Drive ...
"This is a young, hungry team with a young, hungry quarterback and a young D-line," he said. "I want to bring a change to the level of culture here. That's a goal of mine and I know that's a goal of Coach Saleh's, to win a championship. He's building to get to that level, to win a championship, and that's what we're all trying to do here. ... I know we can do that here. That's the goal and that's one of the reasons I came here, for sure."