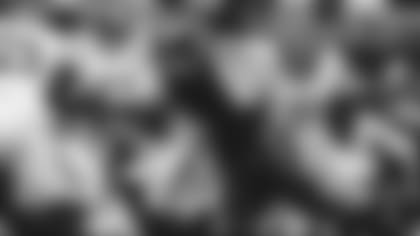 Defending every blade of grass, even the artificial kind, every inch, every yard has been the goal of the Jets' defense the entire season. It's what head coach Robert Saleh preaches and it is what the defense has embraced.
Beyond doing that spade work on every play, stopping the opposition when it is critical late in games has been a challenge so far in the 2021 NFL season. But on Sunday against Cincinnati, the defense stopped the Bengals not once, but twice in the fourth quarter with the game on the line in the Green & White's improbable, but inspiring 34-31 victory.
"Guys were able to make plays when we needed them," was Sheldon Rankins' simple explanation on Monday.
In a game full of critical plays by the Jets' defense -- from an early stop on downs in the red zone and a key sack by Quinnen Williams -- none was more important than Shaq Lawson's deflection of a Joe Burrow pass that Lawson was able to intercept. The play set up the Jets' go-ahead touchdown, 2-point conversion and precarious 3-point lead with 3:50 left in the game.
On Cincinnati's next possession, with the game in the balance, the Bengals faced a third-and-11 play at their own 49 when Rankins muscled his way into the backfield and sacked Burrow for 8 yards. Cincy punted, the Jets picked up a pair of first downs and ran out the clock.
"That's big," Rankins said. "As a defensive line, we're always talking about putting it on us, we want that pressure. Shaq with that pick and me that sack, it all works hand in hand. Each guy on the D-line winning one-on-one helps. Every single guy making a play, it all works together -- the D-line, secondary -- everyone locked in on that play, that singular play. When it's over, that play doesn't exist anymore and the next one does. Timely stops and timely big plays to shift momentum and put the offense in a good position."
The entire defense had a strong game, despite giving up 31 points. Overall, Rankins had a total of 4 tackles, 2 TFLs, a QB hit and that crucial sack of Burrow.
"It was simple, we understood that 54-13 [at New England] is not our standard, it's not who we are," he said. "To a degree we wanted to put that behind us and get to work on Cincy. I've said it before ... sometimes simple is better. We came out yesterday and kept it simple, played fast and violent, and guys won their one-on-one matchups. It's what this league is about. If guys weren't winning, then we don't get on the board."
As critical as those fourth-quarter plays were, a single play in the first quarter, with the Jets leading, 7-0, and driving could have altered the outcome. Mike White's pass intended for Jamison Crowder was intercepted by Jessie Bates at the Bengals' 34 and returned 65 yards to the Jets' 1-yard line. On Monday, Saleh offered praise for wide receivers Denzel Mims and Elijah Moore for tracking down Bates and saving the TD.
Then the defense stuffed two runs by Joe Mixon, Burrow threw an incomplete pass and then Williams burst through the Cincy offensive line to haul down Burrow for a 12-yard loss, turning the ball over on downs.
"That was huge," Rankins said. "They were able to get the ball in favorable territory. In drives and times like that, 3 points is usually the best you can hold them to. We held them to nothing, big to keep them off the board. We came out fast, violent and making plays early on carried over to the rest of the game."
With a trip to Indianapolis for a nationally televised game on Thursday night coming up, Rankins knows that Sunday's game is yesterday's news. It's a game in the win column and on to the next one.
"There's not much we can do this week," Rankins said. "It's about coming out fast, with energy, guys executing and winning matchups. Bring that confidence from yesterday, but it means nothing but being able to carry that momentum all week in preparation.
"I think the goal is to end each week 1-0. For us just being able to get a win, period, and get back in the win column and getting guys to understand we can play with anybody in this league. Week in, week out it comes down to individual matchups. Fight, scratch, claw and do everything possible to keep the team in tough games. If we stay in the game, we have the guys to win games."
See Best Images from the Game at MetLife Stadium