Hi, Jets fans, DinaMarie here!
I want to start by saying I am so honored to be a part of the 2011 Flight Crew and hope you are all enjoying the season as much as I am. This experience has been nothing short of a dream and the season is just FLYING by.
With that being said, I can't believe it's already Thanksgiving! Growing up in Staten Island, it is no surprise that I come from a typical loud, warm, Italian family, and get so excited when the holiday season rolls around. Holding true to the Italian stereotype, I'm blessed with a big, close-knit family, and of course there is always a spotlight on food.  With Thanksgiving just a few days away, I wanted to share with all of you some of my family's holiday traditions.
Every Thanksgiving seems to run the same each year. Walking into my home, you would find my parents cooking in the kitchen (starting around 6 a.m.), with the Macy's Thanksgiving Day Parade on in the background.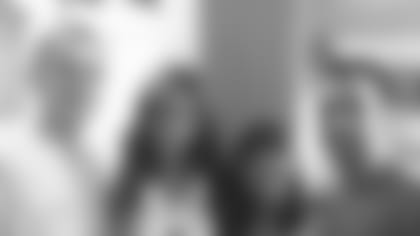 Each year we rotate which relative will host Thanksgiving, and when the whole family finally arrives, someone will usually bring heavy cream and a mason jar. It's a tradition that started over 15 years ago; every family member shakes the jar with the heavy cream until it turns into butter, and then is put on the dinner table.
Once the whole family is sitting around the table, we all say what we are thankful for. We usually start with the youngest family member and go around the table until everyone gets a turn.
Also, one of the things that sets my family apart is that we always start our Thanksgiving dinner with lasagna. My grandparents were first-generation Italians. Starting the dinner with lasagna was something that my great grandmother did years ago, and just seemed to stick throughout the generations.
Lastly, the night will usually wrap up with all of us watching a movie together before everyone heads home.
The holiday season is just another reminder of how blessed I feel to have such amazing friends and family in my life. My family has always been my support system and my own biggest fans. I'm happy I got to share a little of my background with all you Jet fans, and wish you all a happy and healthy holiday season!