Here are a dozen Did You Knows about the Jets, the Jaguars, their games against each other, and their preseason opener tonight at MetLife Stadium:
In the teams' only other preseason meeting, the Jets prevailed at MetLife Stadium 37-13 in 2013 as RB Bilal Powell totaled 73 yards of offense and Kahlil Bell ran for 2 TDs.
The Jets, in their first home playoff game in 12 years, defeated Jacksonville 34-24 in the Meadowlands in the 1998 AFC Divisional Round, with Vinny Testaverde, above, among the leaders in the triumph.
In all games, the Jets are 6-3 at home vs. Jacksonville, including last year's MetLife regular-season matchup, won by the Green & White 28-23.
Eric Decker and Brandon Marshall caught TD passes from Ryan Fitzpatrick and Lorenzo Mauldin had his first two pro sacks in last year's win over JAX.
CB Marcus Williams tormented Jaguars QB Blake Bortles in last season's game with 2 of his team-leading 6 interceptions and the first half-sack of his career.
Brant Boyer, the Jets' first-year special teams coordinator, had 10 sacks and 2 INTs in 6 seasons as a Jaguars LB and standout ST contributor.
Jets DE Muhammad Wilkerson notched the first sack of his career when he took down Jaguars QB Luke McCown for a safety at MetLife in 2011.
Nick Folk, back from last year's quadriceps injury, nailed a 54-yard field goal in the third quarter of last year's preseason win over Jacksonville.
Doug Marrone, Jacksonville assistant head coach and offensive line coach, was the Jets' OL coach from 2002-05.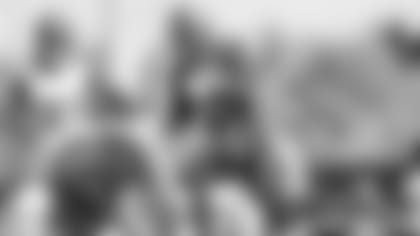 RB Chris Ivory, now with the Jaguars, set personal bests of 1,070 rushing yards and 8 total TDs in his third season as the Jets' featured back last year.
Also on Jacksonville's roster are Ryan Quigley, the Jets punter for the past 3 seasons, and WR Shaq Evans, the Green & White's 4th-round pick in 2014.
Jets tailback Matt Forte scored 4 TDs and averaged 130 yards from scrimmage in 4 regular-season games vs. the Jaguars when he was with the Bears.