The interception won't go in down in any record books, and it'll be forgotten by, oh, probably tomorrow.
But rookie cornerback Dexter McDougle was savoring his end-of-practice pick all the same.
"It was good to end the practice that way, especially for me — I really wanted to get one today, and I got it," McDougle told me after he jumped all over fellow rookie Tajh Boyd's rollout sideline throw to rookie WR Shaq Evans, then tip-toed his feet in bounds to get the call on the last play of team drills in today's first practice of Jets training camp at SUNY Cortland.
"I definitely wanted to show I can attack the ball when it's in the air."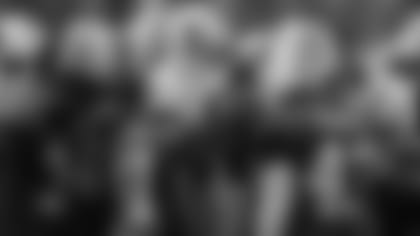 The third-round draft choice also wanted to show everyone he can still snare 'em. As we said, this one won't go into the Elias database, but he hasn't had a theft this big since his last one, for Maryland against UConn last Sept. 14, which he took 49 yards to the Terps' house. Then he hurt his shoulder and never even got to join in offseason practices until the three-day full-squad minicamp last month.
"You can practice the drills and stuff, but once you get out here, it's a little different," McDougle said. "I was thinking about this practice all night. I couldn't sleep because it was my first NFL training camp practice. I definitely had some butterflies."
Yet he said he felt good waking up this morning and getting after it on the field.
The firsts of training camp will continue for McDougle because all teams don't put on pads for the first few days of camp. And again for him, it's been a while since he's been in full battle gear.
"Oh, yeah, definitely I want to get the pads back on," he said. "I only did the mandatory minicamp for three days and we didn't have any pads for that. So I'm really looking forward to it. I haven't had them on since last September. It's been almost a year."
"I've still got a lot to work toward and a lot of getting better to do. This is the first day, I understand that," he said. "All in all, it was a good day."
Head coach Rex Ryan told reporters after today's practice that he feels this year's team is "a zillion miles ahead of where we were at this time last year." ... RB Chris Johnson was in for a full turn after sitting out offseason drills with his knee issue. "He looks great flexed out, in motion, doing different things with the speed he has," Ryan said. "The fumble wasn't good. He never got the handle on it. But certainly if he's lost a step, I don't know. You guys tell me."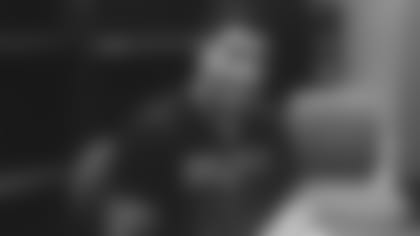 Rex's personnel rundown: Newly signed LB Jason Babin is expected to report today and the coach hopes to have him at Friday's practice. ... Babin officially signed his deal this afternoon, as shown above... Some other minor issues: RB Chris Ivory with "a little bit of a hamstring, but he's fine," LB Nick Bellore with "a little thing with his thigh," rookie WR Quincy Enunwa with a hamstring.
LB Antwan Barnes and G Willie Colon, started camp on the Active/PUP list and were doing knee rehab on the side. Rex: 'If it were up to Willie, he'd be out there today. He's going to be fine. ... I think Antwan, that'll be slower."
---