We knew Deon Simon was a strongman from the time the Jets took him in the seventh round of the 2015 draft out of Northwestern State. And the 6-foot-4, 332-pounder, who didn't play his rookie season, started to throw his weight around in the second half of 2016.
"I just gave it my all and I do what I can to help out," Simon said after registering his first half-sack as a pro in the first half of Game 12 against Andrew Luck and the Colts.
He added his first full sack in the season finale, taking down Bills rookie Cardale Jones from behind. And from Game 10 against the Rams forward, he posted all 4.5 of his tackles for loss/no gain and 28 tackles. His defensive snaps rose from 6.3 per game over the first nine games to 20.9 over the final seven.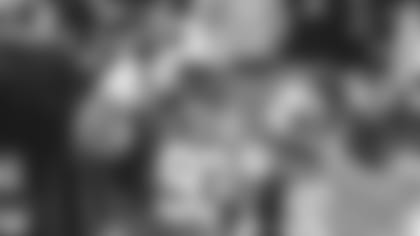 Simon is a member of the Jets brat pack that got valuable playing time this past season and figures strongly in the team's future fortunes. He said after the Buffalo finale that he'll be returning to Baton Rouge, LA, and throwing himself into his third Jets season in short order.
"I'm just going back home, I'll probably take a week or two off, then start getting back at it," he said. "I always work on my speed — that's definitely a thing I'll always work on every offseason. And then my footwork and eyes, just keep training that."
And it goes without saying Simon will continue to hit the weights. His 35 benchpress reps topped all defensive players at the '15 Combine, and he clearly flexed his muscles with some of his inline play in November and December.
"I'll just keep training," he said, "and come back stronger next year than last year."