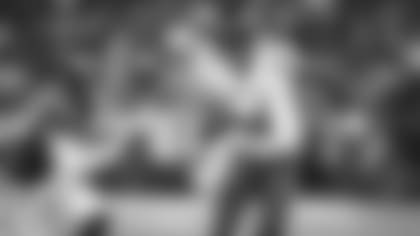 If anyone was wondering about Denzel Mims' viability as a contributor for the Jets offense this season, all you need is to watch the final nine minutes of the third quarter of the Jets' 12-7 win over the Giants on Saturday night.
That's about the time that Mims' "playing angry" kicked in for all Green & White and Big Blue fans to see.
"It just comes from me. I want to play angry," Mims said with a smile after making three catches for 51 yards, including one highlight-video cutback/slash/spin run after the catch to set up the Jets' only touchdown of the game. "I'm not going to let anybody just go out there and bully me and run over me. So I just try to make sure I play angry and get my work done.
"I wanted to get the first down for our team. I just tried to do that."
Without that play, on third-and-18 from the Giants 27, the Jets would've been trying a 40-to-45-yard field goal to possibly open their lead to a shaky 6-0.
But then Mims went to work with the short pass to Mike White. He caught the ball at the 23 and turned back toward the middle of the field to outrun the first two Giants defenders. Then he slashed past three more. Finally, another four appeared to come in contact with him, trying to bring him down. They didn't do it until he had gained 20 yards, with 16 yards coming after the catch, to convert the third-and-18.
Three plays after that, RB La'Mical Perine crashed over the goal line on third down from the 4 and the Jets' lead was not 3-0 or 6-0 but a sturdier 10-0.
That catch, head coach Robert Saleh said, "it was awesome. Denzel had such great intent, a good week and a half of training camp leading up to this game. It paid off for him. His size, his length, his speed, his power were showcased in a couple of plays he had. Several plays before that he lowered his shoulder on a corner. He had great intent and now he's just got to stack it up."
"I'm not worried about that," Mims said of possibly moving back up the depth chart after losing valuable offseason practice time due to a very nasty case of food poisoning. "I'm just trying to do everything I can to get better every single day. I've got to continue to grind each and every day and let my actions speak for themselves and just keep grinding."
There's no better place to grind than on special teams, and observant fans of the Green & White may have noticed No. 11 contributing to the cause a lot sooner than the third quarter. On the game's opening kickoff, Mims got an assisted tackle for helping to bring Giants returner C.J. Board down after a 28-yard runback.
"It's not really new," he said of his specialist's role. "It's something I wanted to do. I wanted to get on kickoff — all the special teams, really — and just try to be active, help the team get better, try to do everything I can. They had me on the [kick coverage] depth chart but I was at the bottom, so I was just like, 'Give me a try, let me show you what I can do.' And I impressed them so I got moved to ones."
No doubt that tackle, plus his game-high-tying three catches for his game-leading 51 yards, got a quick huddle and hug from Saleh on the sideline. The coach didn't want to talk about what was communicated then, but Mims said the message was simple and concurred with how he was looking at his situation as well.
"He just told me to keep playing my game, stay focused, stay locked in the moment," Mims said. "I have nothing but love for Coach Saleh. He just told me to keep going."
And if you don't mind, Mims will keep grinding while he keeps going. That approach has brought him back into the Jets' offensive picture at the right time in a very promising way.