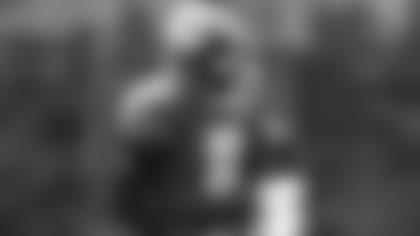 Injuries are a depressing part of football. But the good thing about them is that the injured get healthy and return to action. No more depression.
Such was the case Wednesday for Jets rookie wideout Denzel Mims.
"It feels amazing," Mims said after practicing for the first time since overstretching his hamstring while running pass routes on air in the days before camp started Aug. 14. "It felt real good to go out there and compete, get back into rhythm, get my feet wet a little bit catching balls.
"Yeah, it's been very frustrating."
The same might have been said for head coach Adam Gase, although he hid his frustration well as not only Mims but also veteran WRs Breshad Perriman and Vyncint Smith plus first-year man Jeff Smith and rookie free agent Lawrence Cager all missed time with ailments. But he was pleased to see Mims return to limited activity.
"It's the first time I've seen him get to run routes live," Gase said. "It was good to see him moving around. He looked like he was running well. I know we didn't do anything crazy, but just moving around and hitting the routes we hit in individual, that was good to see."
Before too long, it'll be time for Mims to give that hammy a test drive. His speed and athleticism helped him record 66 catches for 1,020 yards and 12 touchdowns for Baylor last season, as well as turn in a standout Senior Bowl practice week and a fine Combine showing during which he was timed at 4.38 seconds in the 40 and 6.66 in the three-cone drill.
However, one reason he was brought along slowly was to prevent an early return from leading to a reinjury. So Gase said Mims' return is an ongoing process.
"We're just kind of getting him some reps in practice and seeing how far we can take him as fast as possible," the coach said. "The fact that he's been doing as much cardio as he's been doing and trying to make sure he's in the kind of shape we need him in, we're going to have to build it up but we need him to put things on fast-forward mentally."
Mims said while he's been sidelined for almost three weeks, he's taken to heart what his new wideout teammates have been counseling him about working toward his return.
"They said just be patient, stay in the playbook," he said. "You can't control the uncontrollable, so just control what you can control. Do everything right, be on time for rehab, do extra, and just try to be ready for when you get back."
The rookie also has internalized the rules passed on to him from Gase and the Jets' trainers for talking about injuries, politely turning aside a few questions regarding how he got hurt and how long it will be before he turns on the jets full-blast at practice.
But one thing Mims didn't have to filter out came in his two-word response to the question: Will you be ready for opening day Sept. 13 at Buffalo?
"Most definitely," he said.
See the Best Photos from Wednesday's Practice at Training Camp