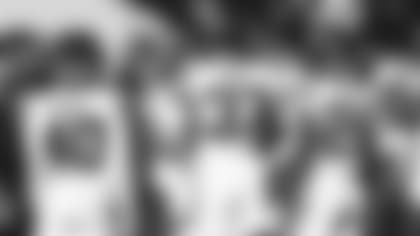 There is only one way to attack a reversal of fortune like the Jets' defensive showing last Sunday at New England, and that's together.
And Jeff Ulbrich said that's the approach he, his players and his coaches are taking to fix the multiple problems in the 54-13 loss to the Patriots.
"I think first of all, it's a strong recognition that we're absolutely in this together," the defensive coordinator said following the day-after meeting with the players to discuss the day before. "After a performance like that, everyone takes some blame, coaches and players alike, every level of defense. Then to be very transparent and brutally honest about what happened and how to fix it, obviously. 
"Only coaching in that way can we fix it, can we make sure it doesn't happen again. There was a very honest meeting and they were very receptive to it, which is a positive in the middle of a very hard day. A positive from the standpoint that they're absolutely all in this together and because of that, it gives us an opportunity to overcome this."
What specifically do the Jets defenders have to overcome? Ulbrich counted the ways. Against the Patriots' run game, "we didn't fit up." Tackling and covering against the Pats' screens and trick plays, he said, "we didn't play to the level we're capable of, we didn't coach to the level we're capable of."
One sore thumb out of Sunday was being unable to stop "explosive" plays. The Jets' young defenders had generally done a good job stopping long runs and passes and keeping plays in front of them in the first five games. But the Patriots completed 11 passes of 20-plus yards, a record by a Jets opponent, and 12 explosives including Damien Harris' first-quarter 32-yard run, tying the mark of a dozen offensive 20-plus plays set in the 1986 regular-season finale at Cincinnati.
"At times, we're committed to stopping the explosives and staying in lead position, staying on top of routes, and at times we will concede the underneath throws," Ulbrich said. "The problem is when those underneath throws start turning into explosives. That's where tackling comes into play. That's where the correct call comes into play that I can put them in better position to have more bodies at the ball, just a higher population to the checkdown or the screen or whatever the short intermediate concept is.
"It's a little bit of all that and we'll get that fixed."
Needless to say, in the midst of a season, there isn't much time for tinkering and the bye week is gone. And next up on Sunday at MetLife Stadium are those Bengals, not the '86 model but a suddenly dangerous '21 version, led by QB Joe Burrow and WR Ja'Marr Chase that, according to StatsPass, leads the NFL with 11 touchdown pass plays of 20-plus yards and 13 TD scrimmage plays of 20-plus.
"It's going to be a fantastic challenge," Ulbrich said. "I start with the explosive reel — it wakes me up. ... They're definitely in a rhythm right now, they're playing at a high level. We're going to have to play at our best, there's no doubt about that, and we've got to make sure as coaches we put these guys in the right position to play fast and play sound football. And we will."