It was a remarkable night of pass rushing for the Green & White defense. Eight players had one sack each — in order, Leonard Williams, Julian Stanford, Bruce Carter, Jordan Jenkins, Devon Still, Josh Martin, Anthony Johnson on the strip, and Patrick Gamble.
The last time the Jets had eight sacks in a preseason game was in their 2008 Giants matchup. The only time since 1966, when team sack stats became reliable, that the Green & White had more in the preseason was a nine-sack extravaganza against Jim Plunkett and the L.A. Raiders in 1983.
And if we want to mix apples and oranges, the eight sacks in this game tie for the most in any game, regular or preseason, since that '83 game vs. the Raiders. The Jets had four 9-plus-sack RS games, all earlier than '83.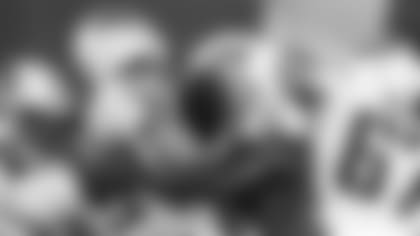 Then, taking the Titans' 64 yards lost on those sacks from their 151 gross passing yards gives them 87 net passing yards for the night. The Jets allowed less than 87 yards only twice in the new millennium: 73 yards to the Eagles at home in 2009 and 63 yards to the Vikings, also at home, in 2007.
Finally, the seven sacks of Alex Tanney, Marcus Mariota's backup, were easily the Jets' most of an individual QB since '66 — no other opposing passer had been sacked more than five times in a preseason game.
Grind on the GroundPart of the reason for the Jets' sluggish offense was their cramped running game. With Matt Forte and Bilal Powell still working their way back from early-camp injuries, Romar Morris, Jordan Todman and rookie Elijah McGuire handled the ballcarrying. Add in some QB scrambles and the Jets ran 31 times for 56 yards.
The 1.8 yards/carry was their third-lowest average in the preseason since 2000. They averaged 1.3 yards/carry at the Giants in 2013 and 1.5 vs. the Eagles in '11.
Points at a PremiumLow scores in the NFL preseason are common, but the Jets' 7-3 win over the Titans was still unusual by the standards of 59 years of summer games.
The 10 points scored by both teams is tied for the fewest points in a Jets preseason game all-time. The Jets took a 10-0 win at the Giants in 1977 and they lost a 10-0 decision to the Ravens at Baltimore in 2000. So it can be said that this was the fewest points in a Jets home preseason game ever.
The seven points are also the Jets' fewest in a preseason victory, and one of five victories, either  pre- or regular-season, in franchise history, achieved with seven points or fewer.