To be sure, Darron Lee has gotten to a redshirted Jets QB here and there. But the first-round linebacker also has not always gotten to where he wanted to be, as in a play in team drills Sunday when he jumped on a Geno Smith hard count, then did hit the gap well but still didn't reach Geno before the ball was out of his hands.
Lee admits the first four days of his first NFL training camp, the last two of which were his first full-pads practices of camp, have been more a case of mind over matter than a physical assault on the pro game.
"It's a lot longer than Ohio State for sure, especially practice-wise," he said in the Atlantic Health Training Center fieldhouse. "It's maybe not as hard, but it's sure longer so you've got to train yourself mentally for this. Physically you're ready for this, but you've just got to train the mental aspect. And I think that us rookies, we remind each other if anybody gets down on themselves: It's a marathon, not a sprint."
Lee touted his linebacker group and ILBs coach Mike Caldwell for helping him navigate camp. And he also talked about some "cross-training" talk he had with a young up-and-coming Jet at another position — third-year SS Calvin Pryor.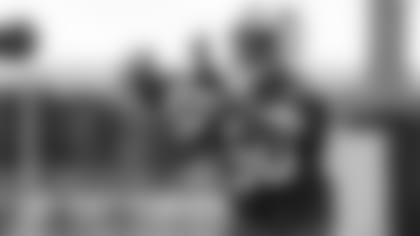 "There were a couple of plays yesterday in practice that I was just inches away from making. I asked CP, how do you not get so frustrated about that because you're so close and confident in your ability to play at this level," Lee recalled. "He said hang in there, you've got to be patient with yourself. That's going to come with repetition. The more times you see it, the more you recognize it and the faster you'll be able to play."
Lee seems to have a good balance in approaching his pro career so far.
"You're not going to win ever rep. ... That humbles you. You will be humbled," he said, adding with his winning smile, "It's fun, though. I love it."