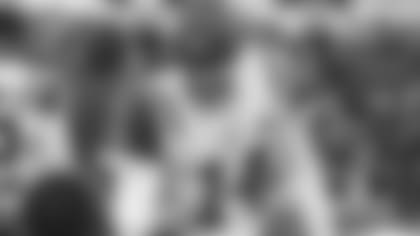 On Sunday, all Sam Darnold had to do was knock off three weeks of rookie rust, survive a third-play-of-the-game "hiccup" with his problem foot, stare down Buffalo's top-ranked pass defense and No. 2 overall D, and shake-n-bake in the last 18 minutes to become the NFL's youngest QB since 1950 to direct a game-winning touchdown drive.
All in a day's work. Next up: J.J. Watt, Jadeveon Clowney and the Houston Texans back home at MetLife Stadium on Saturday afternoon.
"Yeah, it feel's great, some soreness but that's to be expected," Darnold said of his foot, which suffered that early jolt but settled down for him to play efficient and winning ball against the Bills. "It feels great dropping back and being able to move in the pocket. I was also able to sprint a little bit today, which felt good as well.
"It's just game-planning for two really good defensive ends," Darnold added with a chuckle about the Texans challenge. "I think for us it's just continuing to play our football, and for me it's playing fast, just being able to move through my progressions pretty fast and understanding where everyone is on the field. That's the biggest thing, just trying to stay consistent with that."
On the one hand, perhaps the 4-9 Jets are catching 9-4 Houston at the right time. The Texans' pass defense had risen to No. 8 in the NFL in yards allowed/game before giving up 260, 397 and 386 net yards in two home wins and Sunday's home loss to Indianapolis, with that top-ten ranking plummeting to 24th.
However, there are Clowney and especially Watt, who is back to raising his brand of Houston havoc after enduring injury-marred seasons in 2016 and '17. Watt's 12.5 sacks are tied for third in the NFL, as are his five forced fumbles. And four of the FFs have come on strip-sacks.
"He looks exactly the same," head coach Todd Bowles of the pre-injuries, Pro Bowl Watt of 2012-15.
But can that be any more intimidating that Darnold's signature play on Sunday? Early in the fourth quarter, he took his hands out of his hand warmer, handled Jonotthan Harrison's shotgun snap, ran to his right, skipped out of a diving tackle attempt by Kyle Williams, did a 180 to stay ahead of Jerry Hughes and Shaq Lawson, and whistled a bull's-eye to Robby Anderson in the end zone to tie the score for the first time all afternoon at 20-20.
"I didn't realize I covered that much ground," Sam said with a smile. "I think it's just going out there and playing football, trying find space to throw the ball, and if no one's open, run around and make a play, but also understand that if nothing's there to be able to throw it away and eat the play. That's the biggest thing, continue to get experience with those plays when I can scramble."
One thing Watt, Clowney and the Texans defense will try to induce are as many Darnold interceptions as possible. After all, the Jets' rookie QB, while making only one turnover mistake at Buffalo, still leads the NFL with 15 INTs.
But Darnold broke from his laid-back midweek patter with reporters to give a little more insight into what makes this young man tick, and what attracted the Jets to him at the top of the April draft.
"Yeah, you definitely don't want to turn the ball over. You want to give your defense a chance," he said. "But if I feel the play's there, I'm going to try and make it. I'm definitely not going to flinch if I feel something's there. And if I throw an interception, I'm definitely going to be ticked off about it for a little bit, but at the same time move on. And if a play's there and I see it's there, I'm going to rip it again, and have no flinch about it. I think that's just kind of the way I am and how I've played my whole life and I'm going to continue to do that."
Will that pay dividends with surprising wins against the Texans, Packers and Patriots before this year is up?
"Yeah, I think it's huge, just trying to get as much momentum as we can going into next season. I think it'll be huge for this team and really awesome for us to build off a good end of the season," he said. "But for me, I think it's just staying consistent. That's the biggest word for me these next few games. Being a solid quarterback and someone who's able to move fast through his progressions, and just stay consistent with that.
"But also make plays when they're there."