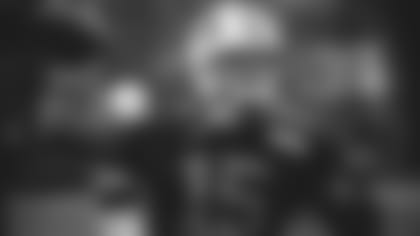 We're pretty sure we know who's going to start at quarterback for New England on Sunday. The Jets' starter may be another matter, which may be the way head coach Todd Bowles wants it.
"Not at this time," Bowles said today when asked if Sam Darnold, the Jets' starter for the first nine games, could be ruled in or out for the Patriots. "He's getting better, he's progressing along. We'll see how he is by Friday."
But would Darnold need more than one day of practice before taking on Tom Brady and the Patriots?
"We'll see how he progresses."
Bowles was playing his cards as close to his vest as the wrapping on Darnold's strained foot. Neither Darnold nor Josh McCown, who started against Buffalo 10 days ago, could shed more light on the Green & White's signalcaller situation.
"Every single day I feel like I'm progressing and I'm doing so much more in terms of learning and all that," said Darnold, who was in uniform for today's practice at the Atlantic Health Training Center but was still a spectator as he was the week leading up to the Bills loss. "So hopefully I can do a little bit more tomorrow and see where we go from there."
"We'll see," said McCown. "It's similar to two weeks ago. We'll go accordingly and I'll get myself ready and we'll see what Coach says. That'll be Coach's call."
Traditionally, NFL coaches are not opposed to keeping opponents guessing about whether an injured starter will return, within the league's injury discloser rules, of course. And at their best, both Jets starters could present the Patriots' defense some problems.
Darnold was at his best less than two months ago, when in back-to-back home wins over Denver and Indianapolis, he completed 34 of 52 passes for 478 yards, five TDs and two interceptions, to the tune of a 110.9 passer rating.
And McCown had one of his most prolific passing days as a Jet some 13 months ago, when he threw for a season-high 354 yards with 31 completions in 47 attempts, two TDs and two INTs in the 24-17 loss to the Pats at MetLife Stadium.
"I think we got in a good rhythm in the pass game," McCown said of that game. "We were able to mix it up. Everybody contributed. I think that's the key, and that's what we're going to have to do this week. It's all hands on deck. Everybody has got to be a part of it."
But if Darnold/McCown and the Jets' offense is not at its best, as it has not been during the team's current four-game losing streak — 48% accuracy, a 41.5 passer rating and one offensive touchdown/game — the result wouldn't be pretty against a Brady offense that, while not as relentlessly efficient as it had been in recent years, is still purring along (at least until the 34-10 loss at Tennessee two Sundays ago) at 28 points/game, seventh in the NFL, and 388 yards/game, checking in at No. 11.
"As young quarterbacks you look around the league and talk about guys that you say who is the standard or what do you want to model yourself after, and how they go about it," McCown said. "I think Tom has certainly set that mark. So it's been great to watch him and compete against him over these years because of how consistent he's been year in and year out."
Which Jets QB will take the ball from Bowles and try to match Brady's consistency, not for his career but just for Game 11 of the 2018 season? The guess here is we won't know until Friday. At the earliest.