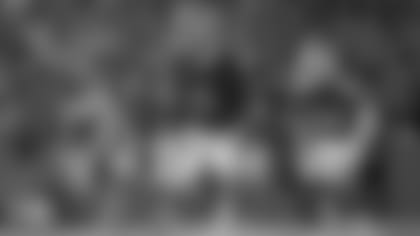 Each year the NFL Draft attracts millions of viewers (34.2 million TV viewers for Round 1 in 2023), but 23% of the league's active players in 2022 that made the initial 53-man roster went undrafted.
The Jets signed five undrafted free agents last May and S Tony Adams and RB Zonovan "Bam" Knight made the team. This year, the Green & White signed 13 UDFAs. So, who could make this year's roster? Dane Brugler of The Athleticlikes to Stephen F. Austin WR Xavier Gipson.
"He's not the biggest guy, but speed, speed speed," Brugler said. "Not just as a receiver, but as a return man, too. You look back to what he did in college and every year he has a return touchdown. The speed is off the charts. Go back to his high-school testing numbers. They were ridiculous. He was a slot receiver for that offense and really shifty with the ball in his hands. Little undersized [5-9, 170], but you're betting on that explosiveness, the ability to turn small plays into big plays and then what he brings on special teams mainly as a punt returner but also as a kick returner. I think he has a chance to carve out a role for himself on this Jets roster."
Gipson was the WAC Offensive Player of the Year in 2021 and 2022 and led the FCS with 1,367 receiving yards in '21. He ranked third with 14 receiving touchdowns and eighth with 74 receptions. He started 44 games for the Lumberjacks and totaled 243 receptions, 4,311 yards and 37 TDs. He joins a crowded receivers room, but could find a home on special teams especially with Braxton Berrios, who handled both kick and punt return duties the last three seasons, no longer on the team.
Brugler also likes fellow UDFA wideout Jason Brownlee, who played collegiately at Southern Mississippi and led the Golden Eagles in receiving each of the last three seasons. Brownlee had 135 catches, 2,144 yards and 21 touchdowns in 35 games (34 starts).
"I know he had a lot of fans around the league," Brugler said. "He does a great job ball tracking. You see the legit ball skills with him at that size [6-2, 198] and that's pretty enticing. Is he a big speed guy? No. That's kind of the hangup with him. He's a 4.59-, 4.60-type of athlete, so does he have the speed to hold up with NFL cornerbacks? That's a little bit of a question mark, that's why he went undrafted. But when you have the length that he has, over 80-inch wingspan, plus the ball tracking and ball skills, that has a chance to stick."
Defensively, Florida S Trey Dean, who is a cousin of Browns WR Amari Cooper, stands out to Brugler. Dean was named to the All-SEC Freshman team in 2018, starting 9 games for the Gators and led the team with 92 tackles and 10 pass defenses in 2021. He played 62 games (40 starts) in Gainesville and totaled 259 tackles, 13.5 TFL, 5 sacks, 1 FF, 24 PD and 4 INT.
"He's played a lot of positions – corner, the star, nickel," Brugler said. "He's really versatile in the back end. Not a burner and I think that lack of speed is why he went undrafted, but he has quickness, he's really strong and he's a smart player. He's a guy that cares. He wants to be the best possible version of himself. If he's able to sneak into the back end of the roster or win a roster spot in training camp, wouldn't be surprised at all."