Stephen Bowen (DE), Leger Douzable (DL), Damon Harrison (NT), Sheldon Richardson (DT), Muhammad Wilkerson (DE), Leonard Williams (DE), Deon Simon (NT/PS), Mike Catapano (DE/IR), T.J. Barnes (NT/waived)
Stephen Bowen, Leger Douzable, Damon Harrison, Muhammad Wilkerson
It was a banner year for the unit as Wilkerson rang up a career-high 12 sacks and was voted to his first Pro Bowl and Harrison also gained recognition for playing at an all-star level in the telephone booth known as nose tackle.
Add in Richardson, who started in last year's Pro Bowl but was limited to 12 games due to his suspension in the first four games, and Williams, who showed the NFL stage wasn't too big for him. The unit produced 21.5 of the defense's 38 sacks and the run defense came in at No. 2, a lofty position that the defense hadn't reached since the Jets' first year in the NFL way back in 1970.
It was an outstanding season by many measures for Wilkerson. He had the first 3.0-sack game of his career vs. Tennessee and his 12 sacks added to his 16.5 in 2013-14 give him 28.5, the most in a three-year span since John Abraham's 31 in 2001-03. Wilk also had two strip-sacks and a team-leading six passes batted down behind the line. Penalty-wise, he was not called for a single infraction while forcing opponents to commit seven penalties. And his line-leading 941 defensive plays would have been larger had he not suffered a broken bone in his leg in the third quarter at Buffalo.
Harrison was just as dominant in his area of expertise. "Snacks" feasted on running plays up the A-gap, leading the D-line with 92 total tackles and a team-high eight for loss. He also forced five penalties on opponents, including a torrid stretch in which he drew a holding penalty in four consecutive games, from Game 11 vs. Miami through Game 14 at Dallas.
Williams had a fine rookie campaign, playing in all 16 games with 15 starts and 810 defensive snaps, trailing only Wilkerson among the Jets D-linemen. But the Southern Cal product did edge Mo for the team lead in QB hits, getting to the passer 32 times to Wilk's 31. He has room to grow as he notched only three sacks and had no forced fumbles, but he did force opponents into six penalties.
Richardson made up for some of the lost time after missing the first quarter of the schedule. He didn't play any offense, as he did last season, but he again showed his versatility by spending a good part of his PT as a linebacker, and his 56.2 defensive plays/game were second on the DL behind Wilkerson's 58.8. Richardson wound up with five sacks.
Leger Douzable was ready to contribute wherever the game plan required, which meant some weeks he got only two defensive plays (Game 11 vs. Miami) and some weeks he played 60 (the game before, at Houston). Stephen Bowen was also a plug-and-play kind of guy who saw his most action of the season, 24 plays, at Buffalo, and much of that after Wilkerson's injury. Mike Catapano got to show only a little of his speed in the three games he was active — playing 41 plays vs. Miami and getting his first sack as a Jet against the Giants — before a foot injury landed him on IR.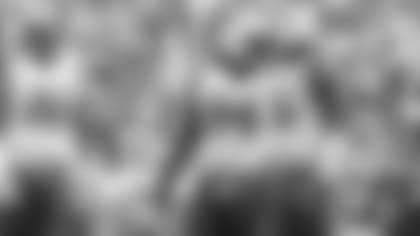 The two big names for GM Mike Maccagnan to sign this offseason will be Wilkerson and Harrison, and Wilkerson's leg rehab will also be a storyline. If the core of Mo, Snacks, Richardson and Williams can be retained, the front line will continue to be a handful for Jets opponents to reckon with. This unit could supply even more sacks and pressures, but speed to contain wide running plays by opponents may have to come from free agency or the draft.
One returnee to keep tabs on this offseason will be NT Deon Simon, last year's seventh-round pick who spent the entire year on practice squad getting his introduction to the pro game from his talented unit and from fiery position coach Pepper Johnson.