Today was D'Brickashaw Ferguson's day at the Atlantic Health Jets Training Center. He did several sitdown and standup interviews, with newyorkjets.com, SNY, NFL Network. He mingled with his family, teammates, friends in the team's boardroom. Then he entered a packed auditorium to applause as more teammates, friends and media joined owner Woody Johnson in celebrating his career in green and white.
And then when Ferguson got up to speak, he bared his soul and showed his heart.
"As I was thinking about what I wanted to say today," he said on the occasion of his retirement after 10 outstanding seasons in green and white, "I thought it best to start from the beginning. This all started with a young boy who had open-heart surgery."
D'Brickashaw has spoken before about his surgery at 9 years of age but not often and not at length in public. As he said today, "It's funny because it's almost like if I never talked about it, it would've never existed. It was almost like it wasn't a 'thing.' But when I was 9, it was a 'thing.' "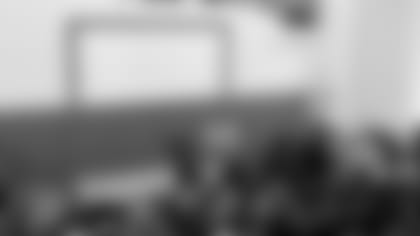 Ferguson said the surgery wasn't a "deal breaker" in the sense of laying him up in a hospital bed for weeks or months. But as he explained, he came from an athletic family that boxed and played basketball together. His father, Ed, got bit with the karate bug, and D'Brickashaw recalled, "He decided we were all going to get the most out of it because we weren't going to stop till we all had black belts."
However, Ferguson's surgery put a stop to his pursuit of a black belt, because he said, "I was told I wouldn't be able to participate in contact sports for an indefinite period of time." He was limited in what he could do at the gym and when he was told he could resume karate, it was only if he wore a chest protector.
"That 10-inch scar in the middle of my chest didn't represent triumph to me. It represented defeat," he said. "And it was boiling inside me until I could no longer accept the situation so that in junior high school, I decided I was going to play football."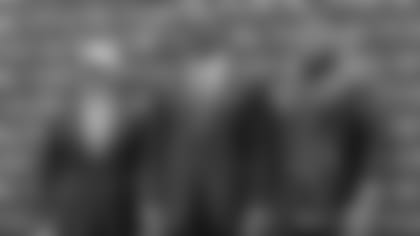 It so happened that Rhunette, D'Brickashaw's mother who was in the audience with Ed and the rest of his family today, was a nurse who, needless to say, followed doctors' orders as part of her job and wasn't about to let her son play football without medical clearance. Finally, D'Brickashaw and his mom went to the cardiologist — actually, a different cardiologist than the one who gave him the "indefinite period of time" prescription. That cardiologist saw things differently. As Ferguson recalled:
"When he changed my chart from 'no contact sports' to 'no restrictions,' the look on my mother's face? Priceless."
From there D'Brickashaw Ferguson rose through the ranks as an outstanding football player, at Freeport HS on Long Island to the University of Virginia to the fourth selection of the 2006 NFL Draft by the Jets to a three-time Pro Bowl left tackle who never sat out a game. As Jets owner Woody Johnson said in introducing Ferguson today, "If you take a look at his record, it's absolutely unparalleled — every game, every play, every practice, every meeting, no 'lates.' It's the kind of thing you look for in an offensive lineman."
And it was the kind of thing Ferguson was looking for in himself. Very thoughtful as always, he acknowledges that going from a 9-year-old heart-surgery patient to a 32-year-old who is leaving a violent game having never been injured enough to miss a practice or a play "doesn't make sense." And yet in some ways it does.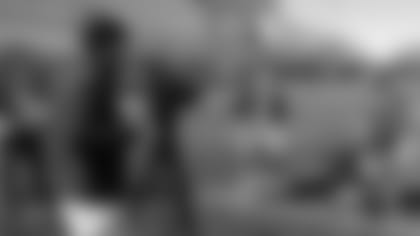 "Because of how I felt and how I internalized that feeling of being handicapped, that spurred a desire in me that I'm going to do this. And out of everything else, I picked football," he said. "That's a part of the story that needs be told. I don't think I ever really reflected on it enough because I never really had to, but it's a part of the journey."
He assured all that this is not a day for tears.
"I recognize this is a closing of a chapter, which does have me feeling a little sad," he said. "But I've been celebrated. I don't think I could ask for anything more, with so many people I respect, people I played with, people I worked with. What else could you ask for when people speak so highly about the things you've done. I'm honored to be here."
Then he noted the No. 60 buttons that many in the auditorium were wearing. "You guys have pins!" he said. "Who has pins?"
And he had special first and last thanks to pass out.
"How is it that the same boy that had open-heart surgery played at the highest level for 10 years, every snap, never suffered an injury? I didn't do that. God did that," Ferguson said. "He brought me this far, and I can only imagine what the future may hold."