Former Jets LB Bob Crable has been named to the National Football Foundation's College Football Hall of Fame Class of 2017.
Crable, Notre Dame's most prolific tackler has been on the ballot the previous four years.
"I actually got to a point where I had my heart set it wasn't going to happen," Crable said. "That's the way my dad taught me. It's easier to not expect it and to have it happen than to expect it and have it not happen. So I wasn't expecting it."
Even when Crable received the news of his induction from his wife, he was in disbelief.
"They sent a football with one of the panels whited out with the text: Bob Crable, you are a 2017 inductee into the College Football Hall of Fame. What happened was my wife took a picture and just sent it to me," said Crable, who was at work when he got the text message. "She didn't call me or anything. I read it and the first thing I thought of was you got buddies that do some cruel things to you sometimes. And I have one of those. So the first thing I thought was this was his plan, this is the evil empire striking me.
"So I sent her a text back and asked what does this mean? She called me and said, 'What do you think it means, stupid? You made the College Football Hall of Fame.' "
Once Crable finally let the thought sink in that his name will forever be alongside some of the best players in history, he embraced the moment with his family.
"My kids and wife were certainly excited about it," he said. "The first thing I thought about was how unfortunate it is that my dad isn't alive to be able to see it. I called my mom and we talked and she said, 'That's so great, your dad would've loved it.' So all of those emotions are probably focused more on my family than how I felt.
"But holy smokes, what a great honor. The number of guys that have been selected for that and being considered one of those guys in the class, there are some big names in this class. I told my wife I'm just hoping they don't mispronounce my name."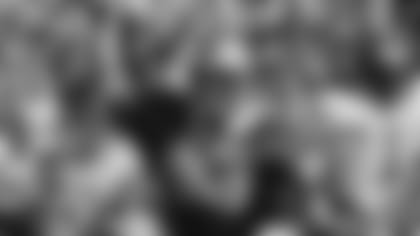 Crable will be in the same ceremony that includes QB Peyton Manning (Tennessee), RB Marshall Faulk (San Diego State), LB Brian Urlacher (New Mexico) and coach Steve Spurrier. To see a full list of the inductees, click here. The induction will take place Dec. 5, 2017 at the 60th NFF Annual Awards Dinner at the New York Hilton Midtown in New York City. Crable will also be honored at Notre Dame Stadium during a game in the 2017 season.
The 6'3", 225-pounder was a two-time All-American for the Fighting Irish in his three years in South Bend, IN (1979-81) and will be the 46th player in school history to join the College Football Hall of Fame, the most of any university. The two-time captain holds the record for career tackles, single-season tackles (187) and tied an NCAA record for most tackles in a game (26). He is also one of three players to lead Notre Dame in tackles three consecutive seasons (Manti Te'o, Bob Olson).
"I'd love to be able to say that I was a great player, but we had some great players around me," Crable said. "I played with guys like Mike Whittington, Bobby Leopold, Mark Zavagnin and Joe Rudzinski. All these guys were good players and certainly made me better. I hope I made them better as well.
"We had a defense that was set up where you got guys that played up front that were in a position where their job was to keep me free. So much of this is an attribute to those guys more than it is an attribute to me. The neat thing about football is that it's the ultimate team game."
The humble Crable was the Jets' first-round pick in 1982 and spent six seasons with the team, registering 477 tackles and 9.5 sacks in 66 games (43 starts). He still keeps in touch with some of his former teammates, namely Lance Mehl, Greg Buttle and Troy Benson.
In his post-NFL career, the Cincinnati native returned home and is now involved in commercial real estate after a stint as a high school football coach at his alma mater, Moeller High School. Crable was also the president of Crable Sportswear from 1987-1990 and is currently the president of the Crable Foundation, which helps support the educational opportunities of student-athletes from Catholic schools.