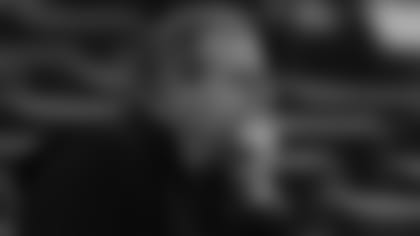 As NFL teams are permitted to enter contract negotiations with agents in a few hours, the Jets are expected to be big players in free agency, which officially commences Wednesday at 4pm EST.
"I wouldn't be surprised, just based on the money they have, to see them be one of the teams to come out and make a splash," NFL Network's Ian Rapoport said at the Combine. "I know there's a lot of names that are out there, obviously Le'Veon Bell being the most prevalent. I would imagine they're going to be in the mix, but I don't know if they're going to get crazy."
Rapoport also anticipates the Jets' approach to be "active but targeted" as the team has roughly $100 million in cap space and 26 expiring contracts. General manager Mike Maccagnan told reporters last week building around quarterback Sam Darnold will be one of the focal points of the offseason.
Bell definitely fits that bill as he's recorded at least 1,000 rushing yards and 600 receiving yards in three of his five professional seasons. The 27-year-old has totaled 5,336 yards on the ground, 2,660 through the air and 42 total touchdowns. If the Jets don't land the former Steeler, they could look to add Tevin Coleman, who's one year younger than Bell and has 701 fewer carries in six fewer games albeit 42 less starts.
"Tevin Coleman I think is a really good 1A type back, so my guess is somewhere around there," Rapoport said. "He's a guy who could be a really productive starter, the kind of guy that's rarely available. He's just available because in Atlanta they have somebody just like him."
Maccagnan said the team will look into beefing up the offensive line in free agency, which includes a solid interior market consisting of Rodger Saffold, Matt Paradis and Mitch Morse among others.
"He's highly athletic, very physical," NFL Network's Steve Wyche said of Saffold. "The athleticism, the fact that he can pull and do some things 1-on-1 with linebackers and DBs in the second level, that's very important. If you're going to move the pocket for a passer, Saffold is a very athletic guy."
Defensively, the edge rusher group was promising a few weeks ago with DeMarcus Lawrence, Jadeveon Clowney, Frank Clark and Dee Ford all set to hit the market. But after they all received franchise tags from their respective teams, the landscape shifted.
"The tier-B guys are going to be the tier-A guys," Rapoport said. "That's guys like Trey Flowers and Justin Houston, if someone trades for him or if he's released. Ziggy Ansah, those type of guys, not the A-plus pass rushers because those guys never hit the market."
Another name to keep an eye on is Rams pass rusher Dante Fowler, the No. 3 overall pick in 2015. The 24-year-old has totaled 83 tackles, 18 for loss, 16 sacks and four forced fumbles in 47 games (seven starts).
"Dante Fowler is a guy the Rams really want to keep," said Wyche. "He played exceptionally well for them. If the market gets too rich, the Jets will probably have to pay for somebody like that to get him away from the Rams. But there are a decent amount of pass rushers."
Click here for NFL.com's Top 101 free agents list.