Here's the first Coordinators Corner of the new year, featuring videos of the news conferences by Marty Mornhinweg and Thomas McGaughey on Wednesday and Dennis Thurman today with beat reporters after minicamp practices at the Atlantic Health Jets Training Center, along with excerpts from all three.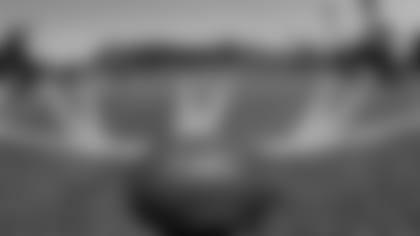 As a bonus, quarterbacks coach David Lee also spoke with reporters Wednesday and he's included in this report.
OC Marty Mornhinweg on how likely it is that Geno Smith will start at QB for the Jets in the season opener vs. Oakland...
You do deal with nicks and injuries and great play and subpar play, all those things. The thing can change, but I want to make myself clear: Geno knows exactly what his expectations and role are at this point, Mike knows exactly what his role and expectations are, and so does Matt and so does Tajh. Communication is very important in what we do. So I'm not going to go there on the odds and all this. I hate to go on the odds there because you're going to hold me to it one of these days. That's why I said things can change, by the way.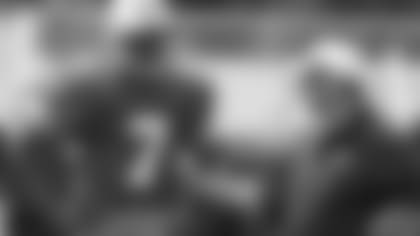 My responsibility right now is to continue to progress Geno's play at the quarterback spot because I will say I was impressed with him. You take everything that he went through last year, I'm impressed. He's a talented, smart young man. And then at the same time, Mike has to be ready to play at a high level and it's just that simple.
DC Dennis Thurman on the defense in general and the secondary in particular after the minicamp...
We got some things accomplished. We feel like for the most part the ones did what they were supposed to do. We've got to find some backups. We have to solidify our corner situation and our safety situation, but I think we went a long ways toward doing both of those.
Lack of experience shows up at times [in the secondary], but the talent is there. We know that we have guys that can play. We just have to make sure we communicate, do the things we're supposed to do. If we do that, I think we'll be fine.
Special teams coordinator Thomas McGaughey on how different his schemes will be from those of Mike Westhoff and Ben Kotwica… **
There are going to be some things that'll be very similar and there will be some things that won't be at all. I'm not Mike Westhoff, I'm not going to try to be Mike Westhoff. My name is Thomas McGaughey Jr., and I can be the best me that I can possibly be and that's where it stops. Mike Westhoff was a hell of a coach, is a hell of a coach, and he had a great career. Ben was a great coach in his own right. But I'm me. I'm not going to try to be anybody else, I'm not going to try to act like anybody else. I'm going to be Thomas Ray McGaughey Jr.
QBs coach David Lee on the comfort of being able to work with a veteran like Michael Vick…
I tell you, my experience with Mike has been a short one, but gosh I've been impressed with him. I love coaching him. He, like Geno, is calm. He messes up, he comes back, says, "I messed up." But just even him in the room, the wisdom, when he says something, the experience, the 10 years behind him and he's played, those guys listen. You've got Tajh Boyd in there. Tajh told me, "Hey, Coach, he was my high school idol. He was my hero." And he's sitting in the same room with him every day. So it's really a good room.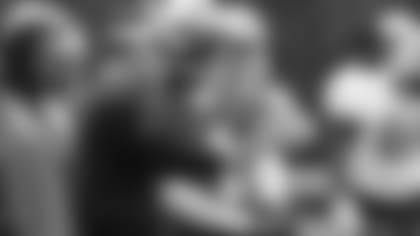 I've got really good people, we've got great chemistry and you've got to have that if everybody's going to get better. And they understand we don't talk about depth chart, we don't talk about first team, second. We talk about getting better, picking up the hots and sights, handling the blitz, making the audibles right, making sure everybody hears the audibles when we go no-huddle. We've got a lot of stuff to concentrate and focus on. We're not ready to play. We're not ready to pick out depth charts and all that stuff yet.