Quincy Enunwa, our sixth-round rookie wide receiver, is the latest to talk about jumping into this game of Reality Madden that the Jets are with Michael Vick at quarterback.
"I grew up watching a lot of these guys and now I get the opportunity to play and compete with them," Enunwa told me after an OTA practice at the Atlantic Health Jets Training Center this week. "I think everybody in here watched Michael Vick growing up. It's just cool to be catching passes from him now."
Vick was asked about all the players he comes across these days telling him they used to be him or play against him when they played Madden football.
"I get that all the time, not just in here," he said with a smile. "That's all across the world, wherever I'm at. That's a good thing, but it definitely makes you feel old, I can tell you that."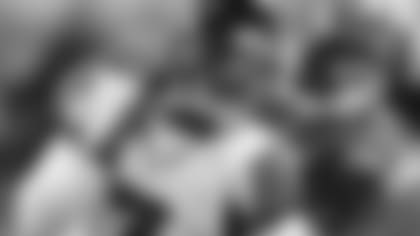 Another sixth-rounder, QB Tajh Boyd, has done more than just control an animated representation of Vick in a video game.
"I got a chance to watch Mike because I believe he played at Ferguson for a little bit and then he went to Warrick," Boyd said of high school football teams in Newport News, VA. "I know Aaron Brooks went to Ferguson for sure. I've got a lot of his high school tapes because there's always a debate about who's the best quarterback to ever come out of the area. Was it Mike Vick, Ronald Curry or Allen Iverson? I used to get a lot of his VHS tapes when I was little and popped them in and try to make the comparison myself.
"As a kid, he was my idol," Boyd added. "He was the figure I looked up at, and to be in the same organization with him is exciting."
Vick is OK with being the graying eminence in the locker room now, but it seems he draws the line at a little too much respect, such as happened at a recent practice when a fullback said "yes sir" to him in the huddle.
"That baffled me a little bit," he said. "I'm not that old and I have to reiterate that over and over again. I may be 10 or 12 years their senior, but when you start calling me sir, I need to start thinking about retiring."
The Jets are happy to have "the old man" on the staff now. Whether it's an open competition with Geno Smith, a closed competition, or a door-half-open-door-half-closed situation, Rex Ryan said he's not surprised by how Vick has made himself at home with his new team.
"You heard about the kind of teammate he was, how he is a very positive person, and we always talk about 'compete and push at the same time' and that's what he does. He has been great," the head coach said.
"From a physical standpoint, man, he can spin it. And good luck trying to run him down. He still has that God-given talent that is fun to sit back and watch from this perspective. I've been on the other side and it was like, 'Whoa, who's going to catch him?' "
Here is a Vick chart I've been working on. It shows his NFL rankings against all other QBs each season since 2001 with the Falcons in three rushing categories:
■ Straight per-carry average as measured by the NFL for all runners;
■ "Real Rushing" per-carry average that factors out all QB kneeldowns.
■ "QB Mobility" average that excludes kneeldowns and includes sacks to see how QBs fare every time the end up the play with a ball, whether on a run, a scramble or a sack.
As you can see, Vick has been No. 1 in these categories for a long time, right up through last season when he finished first in all three categories, including a career-high 10.0-yard "Real Rushing" average. (Rankings based on all NFL QBs with at least 30 rushing attempts in each season):
Year

Team
YARDS/CARRY
"REAL RUSHING"
"QB MOBILITY"
Avg
Rank
Avg
Rank
Avg
Rank
2001
ATL
9.3
1st
9.7
1st
3.5
2nd
2002
ATL
6.9
3rd
7.5
3rd
4.2
1st
2003
ATL
6.4
1st
7.9
1st
4.7
1st
2004
ATL
7.5
1st
8.7
1st
4.3
1st
2005
ATL
5.9
2nd
7.0
2nd
3.4
2nd
2006
ATL
8.4
1st
8.8
1st
4.5
1st
2010
PHI
6.8
1st
7.5
3rd
3.8
2nd
2011
PHI
7.8
1st
8.6
1st
5.1
1st
2012
PHI
5.4
6th
6.1
12th
2.2
6th
2013
PHI
8.5
1st
10.0
1st
4.6
1st