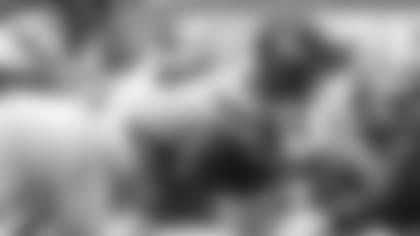 It's one thing to say the Jets' offensive line this past season suffered a lot of injuries and the only player who started and played in all 16 games was Connor McGovern.
Yet the fourth-year center had a few things he had to get through as well. The toughest was probably a hamstring strain he suffered in the home opener against the 49ers.
"I started off a little slower than I would've liked," McGovern told newyorkjets.com's Ethan Greenberg once the season had concluded. "I would've really liked to come out and been at my absolute best the first couple of weeks. There were unfortunately a couple of injuries here and there and I was not playing at the level I could've been."
McGovern downplayed his hammy situation but head coach Adam Gase gave a hint of how serious it was during the week before Game 3 at the Colts.
"Connor should not practice with the hamstring today," Gase said that Wednesday. The next day the coach thought his center "might have to be an emergency guy. We've just got to see how this all plays out."
If you think McGovern might be one of those tough-guy NFL offensive linemen, you'd be right. He returned to limited duty at that Friday's practice and started vs. the Colts. Despite knee, elbow and back conditions and a return of the hamstring strain before the Seahawks and Rams games, McGovern missed only those two pre-Indy practices, and his 969 scrimmage snaps on the season led not only his O-line mates but the entire offense.
It was important for McGovern, who arrived as an unrestricted free agent at the end of March, to be there for all his teammates, not just his good friends and linemates in the OL room every day.
"We have a great group of guys. I think that core is there," he said. "Just the culture of the whole team is starting to grow and be what every Jets fan wants it to be.
"We like to think it starts with us. Some of the great teams in recent history have had that offensive line that kind of leads the team. You've got to be a pretty hard-working, tough guy to play this position. When the team sees you going out there putting your body through it, working hard every day, they're able to feed off that and really grow."
There was an unmistakable feeling that as the line's health stabilized and four of the five players envisioned as starters on GM Joe Douglas' offseason OL rebuild began playing together more, the offense functioned better. In fact, after the bye week, the Jets' production rose 30 yards and four points a game. And the line was key in securing the back-to-back late-season victories over the Rams and Browns.
McGovern, for one, feels that improvement was real and can carry over into the offseason and into Robert Saleh's first season as Jets head coach.
"I really hope there are OTAs. I enjoy them," he said, referencing last year's offseason schedule that was scrambled due to the NFL dealing with the COVID-19 situation. "I'm a guy that enjoys work. I like that fulfillment. And I think that'll be a huge stepping point for this team where you can grow that cohesion. That's not an easy thing to grow, and it takes work. ... I don't think people really realize how big a deal that is, especially with the offensive line."
With cohesion and growth this offseason, McGovern sees better things ahead for the Jets.
"I think we've started to lay a great foundation," he said. "We have to keep working, keep propelling us into great things in 2021. And we're definitely starting to lay that base on the offensive line and for the team as a whole."