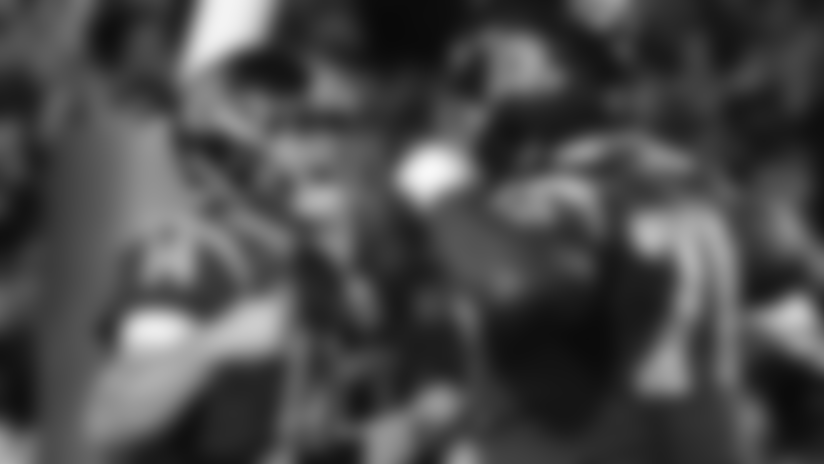 New Jets offensive tackle Chuma Edoga, who has both flashed and had questions arise regarding maturity, is ready to start a new chapter with a clean slate.
"I loved them. They just wanted to give me some words of advice," Edoga said regarding Jets head coach Adam Gase and OL coach Frank Pollack. "I had a little rocky career at USC, but they were really just stressing that you have to turn over a new leaf and create a new you."
The USC product, who protected Sam Darnold for all 12 games in 2017, earned player of the week honors at the Senior Bowl. A two-year starter at right tackle for the Trojans, the 6'3", 308-pounder is ready to take the jump to the next level.
"Just consistency, being consistent and ready to go at all times," Edoga said of his goals. "This is professional, this is a job now. You can't be on and off, up and down. You have to be even keeled the whole way."
Despite playing primarily right tackle in college, the former five-star high school recruit lined up at left and right tackle throughout Senior Bowl practices. General manager Mike Maccagnan sees Edoga as a swing tackle who can potentially kick inside to guard.
"He has the athletic ability to play over there," Maccagnan said of LT. "He's a very long player even though he may not have quite the height that you would like. We thought he has the potential to be a left tackle. I think we'll let the coaches figure out where to play him at first, but I think he has the ability to swing both tackles and potentially move inside the guard."
Immediately following the announcement when Edoga was selected, NFL Network compared him to current Jets left tackle Kelvin Beachum, and Maccagnan sees the similarity.
"Coming out of college, I remember scouting Kelvin many years ago and there were a lot of things we liked about him back with the Texans at the time," he said. "Having been with Kelvin and seeing how Kelvin has played in the NFL, it gives you a little more confidence that a guy doesn't need to be 6'5" or taller to play that position. We're intrigued working with him and we'll see what he can do."
The second of two third-round picks, Edoga is excited to be reunited with a pair of former teammates in green and white. He said, "Man, it's just a blessing to be drafted by such a prestigious program like that and then being able to reunite with some of my college teammates like Sam Darnold and Deontay Burnett."