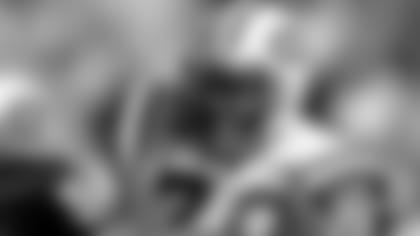 The 2019 College Football Hall of Fame ballot has been released, and among the 214 players and coaches who will be considered by the 12,000-plus National Football Foundation members and current Hall of Famers are two big Division I-A tackles with strong Jets ties: Chris Ward and John "Jumbo" Elliott.
Ward was the Jets' first-round pick, fourth overall, in the 1978 NFL Draft out of Ohio State. He was the left tackle starter from day one, teaming up with RT Marvin Powell as the team's "bookend tackles," and went on to play 91 games, including playoffs — all starts — for the Jets from 1978-83.
Elliott, the Long Island native who starred at Michigan, spent his entire NFL career playing for New York's pro teams. He was the Giants' second-round pick in 1988, spent his first eight years with Big Blue, then came to the Jets as a free agent in 1996 and played 85 games (58 starts) at LT over six seasons (1996-2000, '02).
Jumbo of course is best known by Jets fans not only for his nickname but also as a third tight end and thus for the only reception of his pro career — the 3-yard touchdown grab from Vinny Testaverde with 42 seconds left in regulation that set the stage for the 40-37 overtime win over the Dolphins in the 2000 Monday Night Miracle.
On the Divisional Player level, two Jets draft choices appear.
Eddie Bell, the Idaho State WR, was the Green & White's ninth-round pick (228th overall) in the 1970 draft who played in 81 games and caught 118 passes for 1,774 yards and 12 TDs from 1970-75. He did his most damage against the Colts, with a career-high 12 catches as a rookie in '70 and TD catches of 65 and 83 yards in the celebrated 1972 shootout between Joe Namath and John Unitas at Baltimore.
And Garry Puetz, out of Valparaiso, was the Jets' 12th-rounder (300th) in 1973 who started his very first pro game at RG in 1973 and also played RT, LT in '77 and even center for a game from '73-78 and at one point started 56 consecutive games.
The membership's voting deadline is June 22. The announcement of the Class of 2019 will be made Jan. 7, 2019, and the class will be inducted during the 62nd annual NFF awards dinner on Dec. 10, 2019 at the New York Hilton Midtown.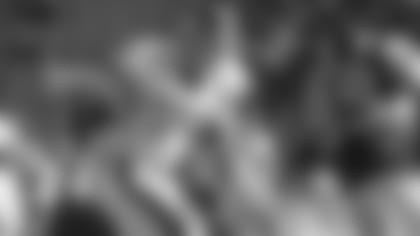 Here are the bios for the eight players with Jets connections on this year's College HOF ballot:
DB Terrell Buckley, Florida State: 1991 unanimous first-team All-American and winner of the Thorpe Award. ... Led the nation in interceptions (12) and return yards (501) during final season at FSU. ... Seminoles' all-time leader in career interceptions (21) who returned four interceptions and three punts for touchdowns in career. With Jets: CB, 16 games (no starts), 2004.
RB Keith Byars, Ohio State: Unanimous first-team All-American and Heisman Trophy runner-up who led nation in rushing (1,764), all-purpose yards (2,441) and scoring (144) in 1984. ... 1984 Big Ten MVP and two-time All-Big Ten selection. ... Ranks fifth all-time at OSU with 4,369 career all-purpose yards and 3,200 career rushing yards. With Jets: FB, 15 games (10 starts) (including POs), 1998.
QB Matt Cavanaugh, Pittsburgh: 1977 first-team All-American who led the Panthers to a 1976 national title. ... Led Pitt to three consecutive bowl wins, earning MVP honors in the 1977 Sugar and 1977 Gator bowls. ... Finished Pitt career ranked second all-time (behind only Tony Dorsett) with 3,916 career yards of total offense. With Jets: QBs coach, 2009-12.
T Jumbo Elliott, Michigan: Two-time first-team All-American (consensus, '87). ... Two-time All-Big Ten first-team selection and member of 1986 Big Ten co-champions. ... Paved the way for Jamie Morris, who had three straight 1,000-yard seasons. With Jets: LT, 89 games (60 starts) (including POs), 1996-2000, '02.
DB Dennis Thurman, Southern California: Two-time first-team All-American who led Trojans to four consecutive postseason wins, including the 1974 National Championship at the Rose Bowl. ...Two-time all-conference selection who helped USC to two Pac-10 titles. With Jets: DBs coach, 2009-12, defensive coordinator, 2013-14.
T Chris Ward, Ohio State: Two-time first-team All-American (consensus, '76, unanimous, '77). ... Three-time first-team All-Big Ten selection who helped Buckeyes to at least a share of four conference titles. ... Blocked for Archie Griffin during second Heisman Trophy-winning campaign. With Jets: LT, 91 games (91 starts) (including POs), 1978-83.
Divisional Player Candidates
WR Eddie Bell, Idaho State: 1969 first-team All-American and two-time first-team All-Big Sky selection. ... Ranks first in school history with 30 touchdown receptions and second in Idaho State annals with 2,676 receiving yards. ... Registered 3,341 all-purpose yards in career. With Jets: WR, 81 games (38 starts), 1970-75.
T Garry Puetz, Valparaiso: Two-time first-team All-American (1971-72). ... Three-time first-team all-conference selection. ... Made first-team all-conference as a placekicker as well in 1972. ... Earned team's MVP award. With Jets: G-T, 69 games (61 starts), 1973-78.