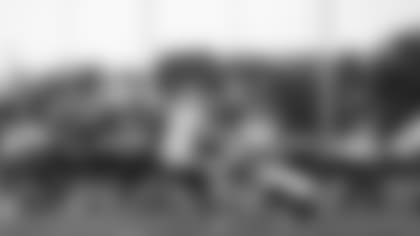 Jets fans of a "special" inclination might long for the days — and years — of placekicking stability with Nick Folk.
Special teams coordinator Brant Boyer, however, has to go back to his pre-Jets days with Adam Vinatieri and the Colts for that kind of steadiness. Boyer had Folk for only the 2016 season, then every season since, whether due to free agency or injury, has had to work with different kickers with shorter shelf lives.
Boyer's got the same situation this summer as he analyzes the skillsets of rookie Chris Naggar and first-year man Matt Ammendola. But perhaps this can be the start of the return of stability at the position. He was asked Thursday about the recent arrival of Ammendola and the departure of Sam Ficken, who did the kicking for much of the previous two seasons.
"Sam did a great job for us, he really did," Boyer said. "He came in and got us out of a pinch and that's exactly what we needed.
"But I think the whole building felt it was time to bring another guy in here, another young leg, to compete for the job."
Naggar was the first to arrive, as an undrafted free agent in May out of SMU, where he kicked last year after transferring from Texas. He had some decent percentages in his 10 games as a Mustang — 81.0% and a long of 48 yards on 17-of-21 field goal kicking, 93.5% on 43 of 46 extra points. He also handled most of SMU's punting.
Ammendola, signed a week ago, had a larger body of college work at Oklahoma State from 2016-19, with not quite as much accuracy as Naggar on FGs (76.9%, 60-of-78, two 53-yarders, one in '16, one in '17) and more on XPs (97.8%, 179-of-183). He went undrafted last year and, needless to say, had no preseason numbers. He was with the Carolina Panthers for two months this offseason before being waived in May.
The competition so far at One Jets Drive has been even to the untrained eye, with Ammendola missing a long FG try on Wednesday and Naggar missing long Thursday. And as far as Boyer's trained eye, he's not giving away too much yet.
"It's good, it's good," he said of the battle. "We'll see how it progresses through the preseason games. Both are very talented kids with big legs. We'll see what happens when it counts, when we put the pads on for real in the games."
But we know one thing: Whoever wins the job, even if it's someone not on the roster yet, it's likely that the Jets will have their sixth different kicker in their last six opening days.
Some quick takes from Boyer on other special teams news:
P Braden Mann: "He's doing a nice job. He's really improved, I think. He's going to do a nice job this year."
Elijah Moore and Michael Carter on punt returns: "I think they've worked their butts off. They really have made some big strides in tracking and catching. Those two will be in the mix, along with a couple of other guys, obviously."
Former Jets KR and first-year ST assistant Leon Washington: "I think players understand who he is. Any player, any coach that has played, they know you've been there, you've done that. When you're telling them something, you're telling them stuff that worked or didn't work. Leon has experience, he's been to multiple Pro Bowls, and he's a great guy as well."
Boyer not shouting as much at his units as in previous camps: "Last year I had a veteran group that, in my opinion, should've known better. When they've been here a couple of years, I don't have as much patience as when you have guys who haven't been here. I don't want to scare 'em too bad right away."