At Wednesday night's Town Hall at the Ziegfeld Theater in New York, general manager John Idzik put on not his actor's makeup but rather his meteorologist's headgear to declare that with Chris Johnson's addition to a backfield that already featured Chris Ivory, "now we've got a little bit of thunder and a little bit of lightning."
Today in the Atlantic Health Jets Training Center locker room, Lightning and Thunder proclaimed that they'll combine to wear away at opposing run defenses this coming season.
"We're just going to work together," said Johnson, the lightning of the pair, he of the electric 4.24-second combine 40. "Everybody's goal is to put wins in the book. We've all got just one focus and that's to win."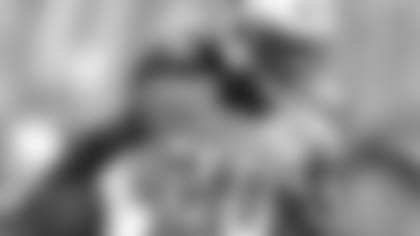 "I thought it was a good move, man," said Ivory, Thunder from his booming second half of last season, about the addition of CJ2K. "Anybody who can come in and help us, I think it's good for the team."
At this time of year, it's to be expected that fans and reporters will worry about how these two forces of nature, plus Bilal Powell and not to mention Mike Goodson and Alex Green and recently acquired Daryl Richardson, could possibly slice the football up into large enough pieces for all concerned.
But again, no one was worried about that.
"I don't know how I'd do it," Ivory said about splitting up the carries. "It's not my team. I'm just on the team. I'm working. However it turns up, I'm happy with whatever."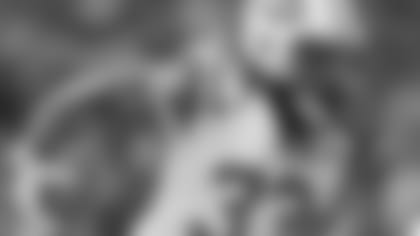 And Johnson, who's averaged 290 carries and 336 offensive touches per season as a pro, noted his ongoing rehab from his knee scope that will keep him out of all OTAs but have him ready to go full at training camp.
"I'm not sure right now" about how many carries he might be seeing. "I've just been in rehab so I haven't been with the team or the offense and I'm not sure how they're going to use all of us."
But rather than a problem, the organization has to be viewing this as an opportunity. John Idzik and the front office, knowing how well Ivory and Powell meshed in last year's No. 6-ranked rush offense, still brought in Johnson. And coordinator Marty Mornhinweg and RBs coach Anthony Lynn will become mad scientists in trying to find the right percentages of rushing attempts and pass plays for all involved to make the West Coast offense purr.
Ivory deserves it. Dangerous for stretches his entire career with the Saints, he turned it on for New England at home and then pretty much from New Orleans on, giving the big bopper the second-best per-carry average in the NFL among qualifying backs over the last nine weeks last season:
But so does Johnson. And while fantasy types get distracted by rush yards per carry and per game and note that Johnson's production has steadily decreased since his phenomenal 2009, his yards from scrimmage have remained at a high, steady level for the last four seasons.
"Definitely another way to get me the ball in space and help me make plays," Johnson said of his receiving game. "That's something they told me they would like me to do."
As an aside to counter reports of a decline, Johnson is tied for the fourth-longest streak in NFL history for most 1,400-scrimmage-yard seasons from the start of a career. No. 1 is Curtis Martin, who notched seven of his 10 such seasons with us. No. 2 is LaDainian Tomlinson, who came to the Jets when the Chargers ended his similar streak after eight seasons.
Johnson and the Bears' Matt Forté are the players best positioned with their current streaks to challenge LT and Curtis in the coming years.
The big idea, at this time of the year but especially when the season starts and the numbers count, is not to pile up carries and yards first and foremost but wins. Johnson and Ivory both know this.
"I think it's a situation where this team is right on the edge of winning and making the playoffs," Johnson said. "I've been in the league six years and I've only been to the playoffs once. That's something that a guy of my caliber would look towards and that's winning and playing in late December and January and hopefully trying to make it to the big game."