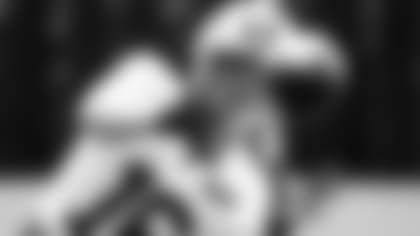 You know what they say about comparisons between a player's first two NFL offseasons being like night and day?
Add Chad Hansen to the list.
"It's awesome," the Jets' second-year wideout said this week about where he is now during OTAs vs. a year ago in his first month as the Green & White's fourth-round pick out of Cal. "As a rookie, your head's swimming at this time. I can just remember how crazy it felt being in the whole offense, trying to remember everything. But now I've got it down a little bit better so I can just play and play fast."
Why specifically did he think that was the case?
"It's like anything. Once you go through it once, you know what to expect," he told me at his Atlantic Health Training Center locker. "Another big thing is you know everybody, so it's a little bit more enjoyable coming to work every day, being able to hang out outside of football. And obviously knowing the playbook is a bonus and helps you play a lot faster."
Then there is the work he's put in throughout his first full pro offseason.
"As a receiver, your biggest asset is catching the ball, so I think that's something I worked on in the offseason, getting my hands strong, trying to catch everything that comes my way," he said. "Obviously, you can always get better at footwork and that was something that I worked on. Another thing is just getting stronger in the legs, lower body, and being able to be a little more explosive.
"So that was just a goal in the offseason and I think I accomplished that."
The early reviews agree. Hansen drew some pub last week for a move he put on veteran CB Morris Claiborne, and in general reporters have noticed his smoothness and great start to OTAs.
Now the trick is to have it all come together in regular season No. 2. Hansen's rookie year wasn't eye-popping but he did begin to contribute on offense starting with Game 10 at Tampa Bay. He finished the year with nine catches on 19 targets for 94 yards and, by one count, no dropped passes.
Hansen said WRs coach Karl Dorrell "put a lot of emphasis" on not dropping balls and that the Jets wideouts responded with a league-leading total.
"Obviously we want to repeat that," he said. "And we want to get yards after the catch. I think that's one thing as a receiving corps we can work on, taking a 5-yard route and scoring, that type of thing."
Tying it all together is the Jets offense playing in new coordinator Jeremy Bates' system.
"I love Coach Bates. He's a great coach," Hansen said. "His whole thing is he wants to make it simple so we can just go out there and play. That's something that as a rookie it's hard to do. He does a really good job of simplifying it, cutting down on the words so you're not thinking, you're just reacting and playing.
"That's the goal this year and I think we're going to have a great season."