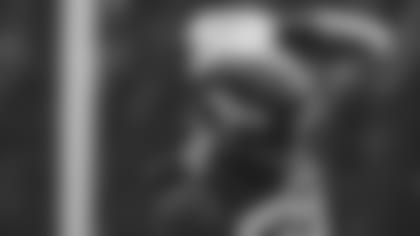 Carl Lawson had a wide-ranging news conference with Jets reporters after Tuesday's OTA practice, and it was one that can give not only the Jets but all the followers in Jets nation chills about what lies ahead this season for No. 58.
For one thing, it's all about the injuries, but in a good way. Lawson last season was a year removed from his summer Achilles tear before he played a game for the Jets. It would ache at times, despite the fact that he had one of the best seasons of his first six in the NFL.
Now? Does he nave no more lingering effects from the Achilles?
"It's completely gone. God is good," he said. "Now I feel amazing. I've just got to keep going and keep the process going."
And where will that process lead? How about to 10-plus sacks for the first time in his career?
"Yes," Lawson replied. "That's the goal and that's going to happen."
You get the idea. Lawson was on a roll, similar to the way he began to rev up his game again last year after a season away. His seven sacks were his most since his rookie season with the Bengals in 2017. His 24 QB hits were right behind DL Quinnen Williams' 28 on the team, tied for 14th among all NFL defenders, tied for ninth among defensive linemen. His 51 pressures unofficially were also tied for ninth among D-linemnen.
Lawson attributes his "tremendous" offseason to a variety of factors. He's rededicated himself to his religion, for instance, reading his Bible every morning.
That spiritual part of his 2023 program has merged with some more secular factors. One of them is stretching three times a week with a flexibility coach. And that is part of his focus on "just creating a routine, having superior habits," something he attributes to a Pro Football Hall of Famer and former Jets linebackers coach whom Lawson never played on the same team with and who died at 58 in 2020.
"A while back I was talking to a mentor, Kevin Greene, who said, 'The only way to be great is you have to have superior habits in everything you do,' " he said. "That was one of the things that clicked for me, and not even when he died. But this year, having different injuries and obstacles pushed me to that point."
His coaches and especially his teammates have noticed. One of them is fellow DL Solomon Thomas.
"After seeing what Carl did just one year off an Achilles," Thomas said, "with his powerful rushes and changing direction well and knowing how he takes care of his body, the way he eats, I'm super excited to have him back again, just to play with him and rush with him."
"God, he came back extremely hungry," guard Laken Tomlinson said. "I can only see him projecting up, man. The sky's the limit for guys like him, if they can play with health."
Restructuring his contract and seeing the next edge rusher come to town in first-round draft choice Will McDonald IV come also feed his fire, although he said those aren't major motivators in his world.
"Yeah, I can add that to the list," Lawson said of McDonald. "But dude, I've been in the NFL so long. I haven't been on a winning team, I haven't made the Pro Bowl, I haven't made the Super Bowl. I've had multiple injuries and come back better each time. That's motivation. You're talking about a speck compared to what goes through my head every single day."
One more stimulus could be No. 8 on the offense. As Lawson recalled, in his third game as a Bengals rookie in 2017, playing at Green Bay, he hung up 2.5 sacks and three hits on QB Aaron Rodgers. And, he also reminded, "my career damn near ended in pursuit of this quarterback," with the Achilles injury occurring during the Jets-Packers joint practices in August 2021.
But Lawson is happy that he's now a teammate of Rodgers, "100 percent. I'm so excited for him and what we can do."
He's also fired up about what he can do for the Jets and for himself after the feel-good offseason start to his 2023 campaign.
"What I really wanted to do when I came to the Jets was give them the best version of Carl Lawson," he said. "This is probably the best I've felt since ... college. I haven't felt like this, I think, ever. So I'm very excited about it."
See the best photos of the Jets during the eighth OTA on Tuesday.