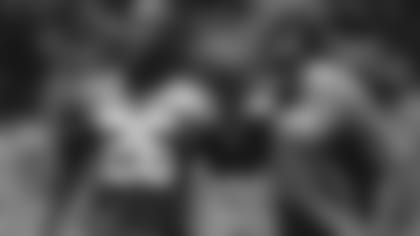 Le'Veon Bell and Curtis Martin have so much in common, it's eerie, and we don't mean that big lake north of Pittsburgh.
Although come to think of it, Bell and Martin do have that Steel City connection. Martin grew up there, Bell was raised near there and starred there.
And each is a fan of the other, Bell of Martin when he was growing up, Martin of Bell after he retired.
Nothing would cement this connection more than Bell, the Jets' new bellcow back, snapping up a few of Martin's Green & White records. Nothing of the career kind yet, but perhaps of the season variety. Such as Martin's franchise-record 1,942 yards from scrimmage in his last, best, season of 2004.
Can Bell surpass that mark as a Jet, perhaps as soon as 2019? To quote the Magic 8 Ball, signs point to yes.
Consider that Le'Veon as a Steeler has already surpassed Curtis' best season figure — twice. In his second NFL season, Bell cruised to 2,215 yards in 2014, the league's second-best total in the last five seasons. He also reached 1,946 yards in 15 games in his last season, 2017.
In fact, Bell has averaged 129.0 yards from scrimmage/game in his career, which over a 16-game season would give him 2,063 yards.
Those numbers are one reason that Bell, at 27 years of age, considers himself one of the NFL's best backs, even after sitting out last season. "Once I play my first game," he said, "people will be reminded."
Martin doesn't have to be reminded. "There's not anything that the guy can't do," **Martin told the Post's Steve Serby in March**. "He's one of the best running back receivers in the league, he's one of the best runners in the league. So you got the cream of the crop."
If Bell is all that, then why shouldn't he reach 2,000 YFS again, just as 40 other backs have done a combined 66 other times in NFL history?
Of course, there are some reasons he might not clear that hurdle this season. One is injury. He's been durable for most of his five seasons, and his offseason work is designed to make him as indestructible as possible. But he did lose 10 games to a right knee injury in 2015. Injuries can strike anywhere in football and particularly at RB at any time. Bell must have the I-gods on his side to set more personal, team and league marks.
He's also conceded he could be a little rusty after his year away, and head coach Adam Gase and the Jets seem determined to optimize his output. If the Sam Darnold-led offense shows an aptitude of moving the ball when not handing it or passing it to Bell, there will be a desire not to expose him to 27-plus touches a game, which is what he averaged his last two seasons in Pittsburgh. Fewer touches = fewer yards.
But Bell wants the rock, he wants the pressure, and he wants to win.
"I want to go out there and put everything I can on the line," he said at the Jets' June minicamp. "I feel I'm a good enough player to go out there and win games." When he's done that, the numbers have come naturally. And from here the odds look good for Le'Veon Bell to become the first Jet to hang 2,000 scrimmage yards on the board in a season.