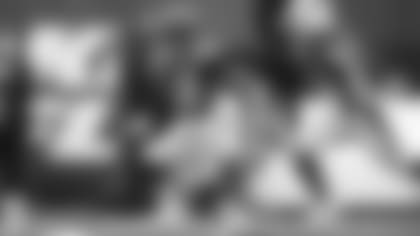 Throughout the offseason, NewYorkJets.com reporters Eric Allen, Ethan Greenberg, Randy Lange and Olivia Landis will each give their predictions to a series of questions regarding this year's Jets.
Today's question: Can Jamison Crowder eclipse 100 receiving yards for a fourth straight game?
EA: In three career games against the Dolphins, Jamison Crowder has 12 receptions for 112 yards and 1 TD. Crowder nearly got to triple digits against the Fins last season when he finished with 8 catches for 83 yards and a score in a Week 9 loss. Through five games, the Dolphins have yielded 100 yards to two receivers: in Buffalo's Stephon Diggs (8-153-1TD) and Seattle's DK Metcalf (4-106). They are outside targets, and Byron Jones left the Buffalo game early with a groin injury and Jones didn't suit up against Seattle. CBs Jones and Xavien Howard, who has recorded an interception in three consecutive games, are Pro Bowl performers on the outside and it would be a major boost if the Jets can get both Breshad Perriman and Vyncint Smith back in the lineup. On the inside, Crowder figures to see a lot of Nik Needham. But Needham can't do it alone and everyone knows how productive Crowder has been for this offense. Miami head coach Brian Flores is a Bill Belichick disciple, so expect the Dolphins to key on Crowder. He might not get 100 yards this week, but he'll continue to be a key contributor by freeing up his teammates and I think that Crowder will get into the end zone for a second consecutive week against a defense that ranks 30th in red-zone efficiency (76.5%).
EG: Jamison Crowder has had a great start to the season with three straight 100-yard games playing with two quarterbacks. QB Joe Flacco is 6-0 against the Dolphins in his career and has a 109.4 rating against Miami. Flacco and Crowder connected on 8 receptions for 116 yards and 1 TD last week, but the Jets could have more receiving help on the outside, which could have an impact on Crowder's chances at 100 yards. Breshad Perriman was limited in Wednesday's and Thursday's practices and if he's able to play for the first time since he sustained an ankle injury in Week 2, his speed could open up the underneath and middle of the field for Crowder. Vyncint Smith, who was designated to return to practice last week after undergoing core surgery in training camp, could have a similar effect as Perriman because of his speed. The Dolphins have two talented corners in Xavien Howard, whose 3 INTs is tied for the NFL lead; and Byron Jones, a prized free-agent addition. Both Howard and Jones, however, play on the outside, with Nik Needham in the slot. Crowder had 83 yards and a TD on 8 catches last year in South Florida. I think he'll have a good game, but will fall short of 100 yards.
RL: No Jets free agent in recent memory has played bigger than compact WR Jamison Crowder (5-9, 177). He led the Green & White receivers last year, and he's doing it again this season with 22 catches for 335 yards and 2 TDs — despite missing two games with an injury. He has three consecutive 100-yard receiving games, with two quartertbacks, and if he teams up with Joe Flacco to do it again at Miami, he will join Don Maynard (five straight in 1968), George Sauer (four straight in '66) and Brandon Marshall (four in a row in '15) as the only Jets receivers to go for 100 yards in four consecutive in-season games. Will JC do it? Here's a conditional yes. (I know, if ifs and buts were candy and nuts, but bear with me.) If Mekhi Becton returns at LT, I could see the Jets running the ball fairly well on the flanks vs. the Dolphins to help set up Flacco play action. And if Breshad Perriman and maybe Denzel Mims return to the WR corps, I could see that also opening things nderneath. So I cautiously expect Crowder to sally four-th in South Florida with another three-figure game.
OL: After recording 8 receptions for 116 yards and 1 TD in last week's game against the Cardinals, WR Jamison Crowder (5-9, 177) became the third receiver in the past 52 seasons of franchise history to have three consecutive 100-yard receiving games, and the second receiver to do it with different starting quarterbacks. In his second season with the Jets, Crowder has been a dependable and productive target. Can Crowder do it for a fourth consecutive week? I think he can. "I'm just trying to be a valuable option for the quarterback," Crowder said after the Arizona game. He is one of the most experienced skills position players on the team and has played a key role in the offense in the three games he's played in. With Joe Flacco starting at QB again this week, they could combine for another impressive outing in Week 6 and lead the Jets to their first win of the season.