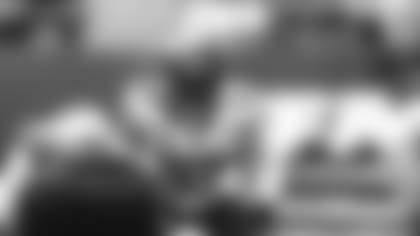 For a Jets defense that was starting to feel good about itself, Sunday's 27-20 loss to Matt Ryan and the Atlanta Falcons in London was the NFL's response that, no, things won't be happening that quickly and easily.
The Green & White D, seeming to show some sympathy pains for their offense that had similar first half/second half woes, struggled in allowing 251 yards, 17 first downs and 20 points to Atlanta in the first half, then yielding 199 yards, 11 first downs and seven points in the second half.
"Start off with a lot of mental mistakes on our part, uncharacteristic mistakes especially in the first half, the first couple drives," LB C.J. Mosley said. "They did a good job setting up some routes for our defense, so credit to them for that. But honestly, I feel for the most part we didn't start out as well as we usually do on third down and just in general. Once we settled down, we kind of figured out what they were doing and made some adjustments."
One potential warning sign for the defense was the long game they had played the week before. Even though the Jets came out of that game with the overtime win, the Titans ran 93 defensive plays and when plays nullified by penalties were added in, the total hit 100 snaps. Less than a week later came the trans-Atlantic trip to England.
"I don't think anybody's tried to use that as an excuse," Mosley said, adding, "We came over here very confident. We did all the right things as far as sleep, practice, studying film. But this is the NFL. Everything doesn't all work out just because you do the right things."
"I thought the plan for the week was awesome," head coach Robert Saleh said. "The performance staff did a great job, the players did everything we asked of them in terms of preparing for this game. Obviously it's not easy coming off a 100-play game. It's not easy when a drive should've been over on the first third down. I disagree with the personal foul, but we'll see the tape. But we've got to find a way to get off."
Saleh was referring to an early penalty called by referee Tony Corrente. Quincy Williams seemed to do everything right in on a blitz, hitting Ryan a split-second after he released a third-and-9 incompletion on the game's fifth offensive play. But Corrente flagged Williams for roughing the passer and the Falcons continued on to a 14-play, 6:14 march capped by a field goal to get the scoring started.
Yet was that enough to alter the game as the Falcons mounted three long touchdown drives plus a half-field field goal march to end the first half? Was it enough to explain how Ryan, missing his top two wideouts, found first-round rookie TE Kyle Pitts for 119 yards on nine catches or RB Cordarrelle Patterson for 114 yards of offense? Or how the D couldn't slow Ryan and company on their final TD drive that secured the win?
Even while the defense wasn't as dynamic as it appeared to be in the win over the Titans, the unit did overcome its start to at least slow the Falcons in the last 30 minutes.
A key to helping the Jets remain in this game and close their deficit to 20-17 with just under seven minutes to play was the return of the takeaway. The first came when Mosley pried a reception out of TE Hayden Hurst's hands in the red zone — his first forced fumble since 2017 as a Raven — with CB Michael Carter II recovering at the Jets 13 early in the second quarter. The second came just outside the RZ when Williams separated RB Mike Davis from the ball with Shaq Lawson pouncing on it at the Jets 20 late in the third.
"I've been punching and swinging all season, so I finally got one," Mosley said of his FF. "It was definitely a momentum changer — they were driving the field again. And Quincy got two. We practice that all the time. It's fun. It feels great when it happens, when you get rewarded for all the practice and the work."
And that, Mosley said, is the answer not just for a takeaway here and there but for the entire defense over 60 minutes.
"We just have to eliminate our mistakes and stop the penalties, especially on third down," he said. "I think everybody knows what this defense is about. Everybody feels comfortable in this defense, everybody feels comfortable at their position. You can see that, especially when we were really starting to get things rolling.
"This is a bye week, but it's really not," he said. "We've got to really lock in and feel what we have to do as a team collectively to get back on track because we can't have a game like we did last week and fall back in the hole in the first half. It's just hard to do that in this league no matter who you're playing. ... We just have to look ourselves in the mirror and figure out what we have to do."
See Best Images from the Week 5 Matchup Inside Tottenham Hotspur Stadium North of London