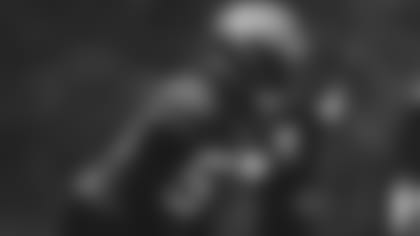 There are a lot of eerie similarities for linebacker C.J. Mosley and quarterback Joe Flacco as they lead their respective sides of the ball in preparation to play Baltimore in the Jets' season opener on Sunday.
Both started their careers as Ravens — Flacco as the 18th overall pick in the 2008 NFL Draft, Mosley as the 17th pick in 2014. Both contributed to Baltimore success, Flacco as the MVP of the Ravens' Super Bowl LXVII win, both to 10-win playoff teams in 2014 and '18. Both departed as unrestricted free agents after '18, Mosley coming to the Jets, Flacco stopping in Denver for a year before making his way to North Jersey.
And this week they have similar emotions, about getting 2022 started with a Throwback Sunday kind of game against their first NFL franchise. But as Mosley told reporters following the Jets' Thursday practice, it's not crazy juice time for him yet.
"I'm not sure," Mosley said of what it'll be like for him to open the schedule against the Ravens. "I haven't really stressed myself out thinking about it. Right now we're preparing for our first opponent, which has a little closer connection for me. As far as the mental or feeling part of it, I haven't come to it yet."
But no doubt he will have emotions.
"For sure, they gave me the opportunity to be in the NFL. I spent five years there. I definitely considered that home for a long time," Mosley said. "You can't control some things, but I think about [principal owner Steve] Bisciotti, coach [John] Harbaugh, Ozzie [former GM Ozzie Newsome] — that's the Alabama connection there.
"There's no hard feelings," he said of his departure. "I've been in this league a long time, I know how the NFL works. It's a business at the end of the day. Besides that, no ill will."
Yet Mosley will have ill will toward the Ravens' offensive principals, primarily QB Lamar Jackson and TE Mark Andrews. That's his job now, and there's none better on the current Jets to show the way against the always difficult Purple Birds. He's been named defensive captain for the second consecutive season. He's got a real good chance to match or exceed his career-high 168 tackles from last season.
And he's the rock on which a good part of these Jets are built.
"The mike linebacker, and especially a guy like C.J., we lean on so hard to run our defense," coordinator Jeff Ulbrich said. "He makes all the checks, the adjustments, he communicates, gets everybody lined up. He elevates everyone around him. Because of him we have a chance to be a good defense. He's a lot of the glue that holds us together."
Mosley appreciates that scouting report from his DC.
"It means a lot to me," he said. "I take a lot of pride keeping people level-headed, a bend-but-don't-break mentality. That's how I spend my day, not getting too high or too low, understanding the situations we're in. I've been fortunate to play a lot of NFL football, I've been in a lot of different game situations — big games, season openers. And what it comes down to is who's most prepared.
"Every team's going to have a great player, a great coach, something better than the other team. But at the end of the day, it comes down to execution and who goes until the whistle blows."
In this game, that player on the Ravens is Jackson. He's the QB who as a rookie kept Flacco out of the Baltimore starting lineup the second half of the '18 season, the thrower and scrambler and improviser and Pro Bowler-to-be that Mosley and his defensive mates recognized that year.
"Now, seeing him as one of the faces of the NFL," Mosley said, "it's definite kudos to him."
But as much as Jackson adds to the emotions of this game, to the QB and the MLB, Mosley has played enough in this league to know that his kudos will stop and his laser focus will remain on for 60 minutes of football Sunday.
"I'm sure once all the smoke clears and all the hoorah gets out of the way," he said, "we'll be back to football."
See the top photos from Thursday's practice leading up to the 2022 season opener against the Baltimore Ravens.