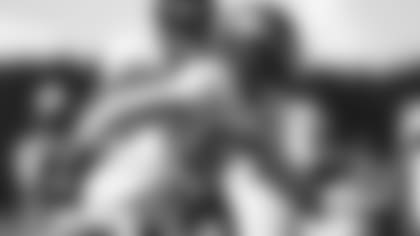 Jets linebacker C.J. Mosley had a simple series of questions for his teammates, young and veteran.
"What's your why?" Mosley said. "Why do you want to be here? We have to find out each other's why. What motivates each other. Why are you here?
"Once guys figure that out, we'll be rolling."
Mosley, who had nothing to fear about Tuesday's cutdown day, is focused on the Jets' 2021 regular-season opener at Carolina on Sept. 12 and is dealing with a new reality as the dean of the team's linebacking corps. Jarrad Davis, signed in free agency, had been expected to give the Jets a solid twosome of veterans in the 4-3 defensive scheme. Now, with Davis expected to be out with an ankle injury until at least Week 6, Mosley finds himself as both mentor and teammate to his young counterparts.
"I'm doing a little more teaching," Mosley said. "They just haven't seen the stuff I've seen. If I make an adjustment, they might ask me what I saw, why I did something. It comes with experience. What Jamien [Sherwood] and Ham [Hamsah Nasirildeen] lack right now is the experience. They're two rookies, but the steps they've taken since they got here are amazing. They were safeties in college, now they're linebackers. I tell them to just hit and run and you're going to be able to make plays, and that's what they've been able to do."
Mosley is positively itching to get back on the field in meaningful games after missing most of the 2019 season, his first with the Jets, because of injury. He then opted out last season over concerns about the coronavirus pandemic. We see him now on the field, flashing his No. 57 jersey all over the gridiron. But during his time away from the team he hardly sat back and relaxed.
In an installment of "One Jets Drive: C.J. Mosley Returns," his father Clinton takes viewers on a tour of C.J.'s bare-bones basement workout room. It's no frills, insulation visible in the ceiling, no TV, no radio, zero amenities. Nothing. Only weights, workout equipment. "This is why he's ready," the elder Mosley said. "He was here every day, when he was injured and during the opt-out."
His dedication and drive are qualities that have not been lost on his teammates and coaches, and the feeling is mutual.
"Saleh? He's created a more controlled chaos-type of defense," Mosley said, referring to head coach Robert Saleh. "He's so detailed. He wants things as fast as possible, but keeps it simple so we can move as fast as possible. Once you see it when you look at film, that stuff has worked and been proven to work. Now it's about what we do with it. We have to put our talent, our energy out there."
Saleh spoke recently about his team, describing it as "ridiculously young," and Mosley acknowledged that fact and also pointed out that much of the coaching staff is young and also learning on the job.
"What the coaches lack in experience in the league they make up for with the way they coach," he said. "Coach Ruty [linebackers coach Mike Rutenberg] is hands-on and he expects the same out of everyone, rookies or a seven-year player like me. He makes sure we understand the defense and the role that each of us has to play. One of the most exciting things, on the offensive and defensive sides of the ball, is that we have coordinators who have gotten to championship games and the Super Bowl. We are coming into a system that gives us excitement and has been proven to work."
No matter how you slice it, C.J. Mosley has returned to the Jets with a point to prove -- to himself and to fans of the Green & White.
"I'm very excited," he said. "I take nothing for granted. Any time I can get a moment to be by myself I look around and see everything. I feel very humble to be back on the field and in the NFL. It could have easily gone the other way. I'm very honored and very blessed to still be playing in this league."