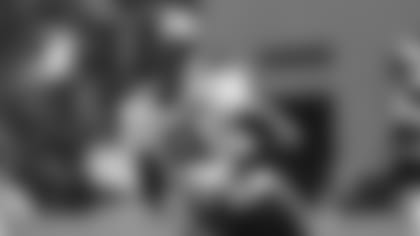 Elijah Moore has a great attitude for continuing to attack the start of his NFL career, which has gotten off to a slower start than he and Jets fans expected as the highly productive second-round slot receiver out of Mississippi.
"I wouldn't really say disappointed," Moore told reporters following Wednesday's practice ahead of Sunday's return to action at New England. "I know it's all a learning lesson. It's not really about me, it's about winning. That's really all that matters. If we won every game and I had zero stats, it wouldn't really matter. That's the ultimate goal for everyone in this building."
Moore has played about half as many offensive snaps in Games 3 and 5 as he did in Games 1-2 and sat out Game 4 against Tennessee with a concussion. He has shown flashes of big-play ability, with his season-long reception of 27 yards in the home opener against the Patriots and a 41-yard pass interference call drawn against the Falcons in London.
But for his four games and 162 snaps, he has only 20 targets and eight catches for 66 yards. That's a far cry from his per-game averages of 7.7 catches and 102.2 yards in his last two seasons at Ole Miss, and so everyone has an opinion to help his career lift off.
Maybe he's in a tough situation sharing the slot spot with veteran Jamison Crowder? Moore said no.
"I feel like wherever they put me, I can get it done. Inside, outside, doesn't matter," he said. "I feel we're very close. It's all about execution. I'm really not worried, my mind's right, my mind's clear. It's just about getting back on the same page with my team so we can win."
Of course, Moore could be hiding his true emotions behind a tough pigskin exterior, could in fact be concerned about getting his career off and flying. But fellow WR Corey Davis said that's not the case, either.
"Honestly, Elijah has a really good head on his shoulders," Davis said. "He's not depressed about it or anything. Obviously he wants to do more to help the team, but he knows it's going to come. We definitely need him. We've got to use him."
"Me and Corey talk about it all the time," Moore said. "I think knowing what type of person I am, I trust in God, I definitely put in the work, so it's not 'Ohmigod, when is it going to come?' When it comes, I'll be ready. That's my approach to it."
And Robert Saleh's approach to it is to trust the process and let Moore keep making steady progress toward becoming the player the Jets know he can be.
"Yeah, we want to get the ball in his hands more, of course we do," the Jets head coach said. "But the positive out of this is that he is getting these reps, he is getting game action, he's going through the rigors of an offensive game, he's getting hit, he's having to block, he's getting experience, all of it. So he's getting better and there's visual evidence when you watch tape. He is in position to create a lot of explosive plays.
"It's just that there's defenses, there's protection, there's opportunity that just needs to be taken advantage of and eventually it's going to happen. But he's been a factor in games, he's done a really nice job with his route running. So he's doing a lot of good things. He's just got to stick to it and trust that good things will happen."
And Moore, who "definitely" sensed the positive vibe of the Jets returning to the Atlantic Health Training Center off their bye this week, also senses that a 60-minute explosion is coming soon, for his offense and especially for him.
"I do. It's only a matter of time," he said. "I have to think like that. I have to go in thinking I have to be ready. That's the approach I take."
See the Top Photos from Wednesday's Practice Leading Up to the Road Game in New England